Plantronics used to be thought of very much for their PC headphones and many people will have used them for Skype and similar. That clunky USB plug in!
However in the last couple of years they have been moving into the consumer space. My interest was piqued when they waved Bluetooth headphones at me with a battery life of 18 hours yes 18 hours! Those original ones used to take as long to charge as they lasted for and that delightful blue flashing light on your head.
Now they are very much a changed product that is intelligent. It stops the playback when you take the headphones off your head…sensible and all without fiddling about to worry which button to press. The microphone is built in so you can deal with calls too.
When calling it recognises you are calling and pauses the playback automatically so fiddling between apps is unnecessary. Your music is paused while the phone rings so you can answer and this is easily completed from the headphones.
The call quality is good and the microphone works well.
I tested them on the train to check out background sound and for music leak. They cut down the train noise quite nicely – they are not noise isolating. I however was easily able to hear the music and did not need to turn this up.
I also find when I put on headphones at home there is one problem that occurs…..I wander away from the phone and they die on me as they lose connection. So how about a range of 100m which is so much more sensible! So no more cut out as I wander off to jobs flitting from one thing to another.
If you want to hear your surroundings then just press the red button on the bottom and the microphone is used to enable you to hear your surroundings and your music is automatically paused. It can also be used as a mute button during a call.
A quick press of the headphone for two seconds and you have the smartphone assistant to make calls for you. It helpfully says to you say call and you just say "call home" and it dials for you.
The other ear controls your music track back, track forward and pause and play and volume all on one ear.
They handily fold flat and come in their own carry case. They have a headphone connection and a charging lead.
The sound is good with a positive bass but covering the mid and high ranges well.
A very impressive set of headphones that are designed for the fashionista. There smart tan and cream or expresso black options.
Well worth a purchase if you want a great new set of headphones. If you are feeling flush you could buy two pairs to match your outfit! You however should remember that you can pair these to two devices!
Plantronics Backbeat fit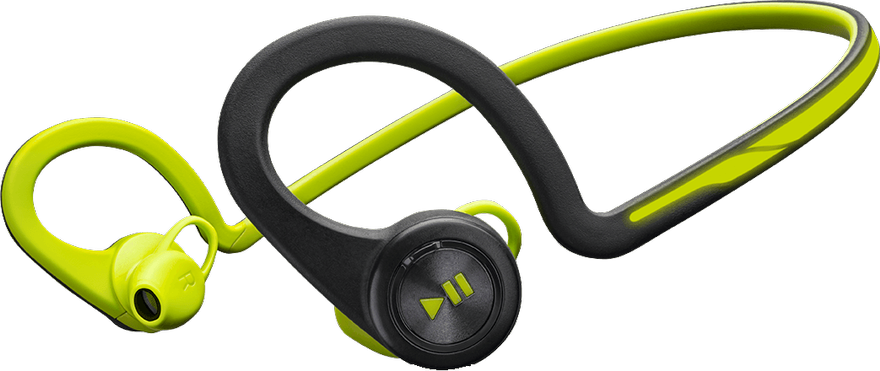 You know it is that time of year where helpfully the papers will be full of the Little Black Dress diet, which of course co-incides with your office filling up with people buying mince pies early and needing to share as they have realised the use by date expires before the holidays! Or chaps how about giving your girlfriend or wife a unique present… yes you with a little less beer belly! I'm sure she'd appreciate a toned chest combined with a great sense of humour!
So now I've turned your thoughts onto fitness let's consider what you need….
How about a set of sport headphones
Ones that stay in the ear….run on blue tooth and helpfully come supplied with a case to carry your phone in too that is reflective and reversible.
Now usually I would run outdoor and indoors so there are two different challenges. When outdoors you need to be able to hear traffic and to be able to maintain your safety. These headphones are designed with this in mind. They allow you to hear sounds around you rather than block all sound so far safer if you are out.
If you are indoors the challenge is to be able to hear them in the gym without damaging your hearing. There are two challenges to this.. one is being able to hear over the gym machines and the second is to hear your music over the gym music as Background sound can get a little loud sometimes. You want not to have to turn them up to a damaging level.
So for the staying in test I had to vary this a little and fortunately for me Plantronics were confident enough in the headphones to allow the "trampoline test" So look below to see my editor being forced to trampoline!!!!! No injuries I'm pleased to report and he liked the security of the headphones too. Ear security is important when you are running as there is nothing worse than spending your whole run fiddling with the headphones…it just does not help when you are on for a PB.
They are designed to slip around the back of the head and under the hair for us ladies. A flip over the ears and you are ready to go.
In terms of battery life an 8 hour life….I love not spending my life charging devices…so for those of you very fit souls you should be able to get all the way round a marathon and have 3 hours more music to get home. Or you could chat for 6 hours if you have the puff. They have standby of 14 hours and can stay charged for 6 months if in the deep sleep state.
They are fine out in the rain for those days when you have forced yourself to do the park rain and it is pouring. At least you can cheer yourself up with some decent music and a good beat to speed your way round. They are sweatproof but us ladies as you all know only ever glow!!! So I guess that is a special for the chaps!
So onto the next important questions what do they sound like? My first thought is how clear they are on the first track I've started with good depth and detail. I however can still hear the traffic around me. However for those of you in Cambridge and Oxford these will be of no help on those sneaky cycles that sneak up on you headphones or not!
It does not give a heavy bass but the sound is reasonable across the mid range and will give the higher notes. It however is not the clarity you would get through a top speaker. However for someone out running with a decent playlist they will stay in place and give you the motivation to run. It is well worth reading the manual as though these may be small they include a number of controls for calls and music
[MRM1]
.
No problem on the call front just tell them who you want to call by holding the call button till you get confirmation that voice control is activated then off you go.
So how about a some decent music while you are out and the handy arm band pouch to keep it all in when not in use.
A well though through set of headphones that it is well worth plugging into. So what are you waiting for you know the gym will be crowded in January get in early.
Jabra Sport Pulse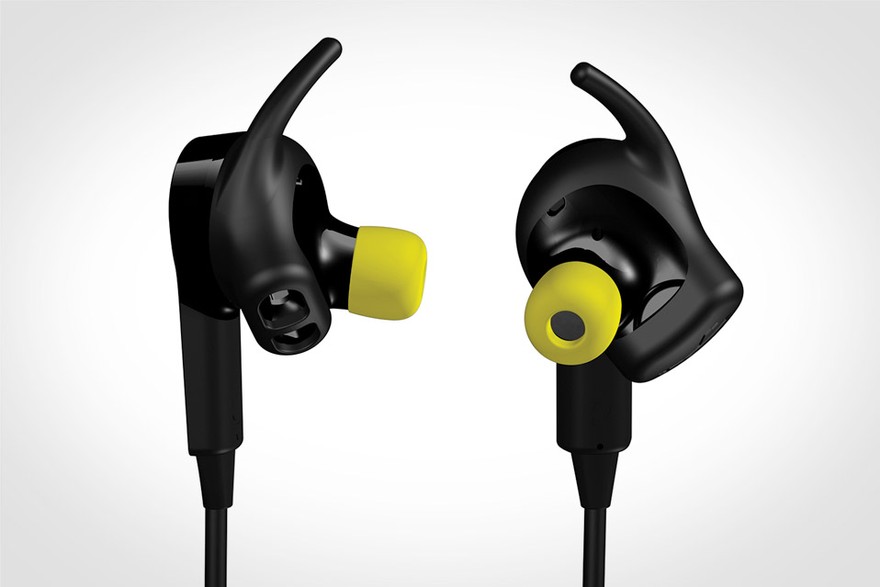 So you are seriously sporty and need a training companion then these are for you.
In the pack you not only find the headphones but a charging lead and a case to keep them in.
These headphones that slip round the back of your head and they have a clip to stop them flying about. Good plan as that is often what causes them to fall out when you get active.
These headphones when you first go to fit them say twist to fit. Once you get the hang of this it is remarkably simple and secure.
So are you still sliding on a wrist band or a chest strap… time to get modern as these headphones take your heartbeat as you run. It's all in the monitor in your left ear.
They come with a QR code which will get you the app Jabra Sport which is available for iphone and android. So app downloaded and you may want to add Jabra sound too or just use your own music system on your phone. You can calibrate to your running and walking pace for greater accuracy.
So you set up the app for example telling it that you are running. Between the app and the headphone and your phone…our GPS is tracked. It reports in either every KM you complete or mile depending on the setting you have set up. It gives you time, cadence, heart rate. The information is also given when you reach each 10 minutes. So if you are challenging yourself to improve your PB the information is handily straight into your ear. You will need your phone nearby as it has a limited range on the Bluetooth of 10M
That however is not all it actually has workouts built into the app so you can either use a standard work out or create one combining the exercises available on the app. It has settings too for when you are running or walking on the treadmill. You can even take it spinning with you. If you like winter sports no problem as skiing and skating are all on the standard list. On the workout you can select from the lazy just track me to a time, distance, calorie burn goal amongst others. You also have target pace, cadence goal so very comprehensive with Heart rate zone and Interval training too.
This is a piece of kit that the headphones for the motivating music, the regular updates on progress is going to keep you inspired to run further faster.
There will however be no excuse for slacking in the gym on your non running days when you tap the cross training button and find that it offers options such as mad core, belly burn, push perfection and you are shown the exercise on the screen and have tick box to say you have completed say 10 sit ups. You can combine these to build your own cross training work out which is pretty handy. All the while the helpful instructions are in the headphones. So you can focus on your workout and not your phone.
The app handily will even tell you when to connect your phone to the computer to update the software.
In my case the maximum battery shown was 4 hours but the site does say up to 5 hours. We tried them on the trampoline – see video to check how well they stayed in and took them to the gym to see how they were against the background noise. I'm told they performed well. I did have one issue in a quiet environment in that I could not turn them down. I had a track that for me was too loud and the phone was full turned down and I turned the headphones down all I could and it was still too loud so I simply listened to something different.
The music app has Dolby sound processing and an equaliser in the compatible music app. If you want to you can build a playlist so you don't run out of motivation.
I think these I would be more inclined to use for fitness than for phone calls primarily because they act as the complete package when used with the app. I think they are quite motivating and encouraging to
push further and faster when training for an event any trying to achieve a PB.