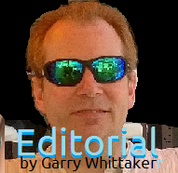 Welcome to the Spring 2015 issue. This issue is buzzing with new ideas for a new year

Our main feature is the fabulous Mitsubishi Outlander Plug-In Hybrid Electric Vehicle. A car so brimming with tech we had to dedicate a whole section to it. Currently we have hours of video to go through from our test drive but we wanted to get this to you as soon as possible so we put the article up in preview form and will update it with more video shortly.
Once again we have another fantastic competition with great prizes from Energizer and STM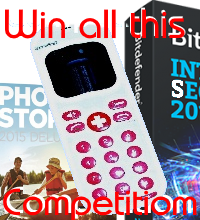 Talking of prizes some of those are as mentioned supplied by Energizer who have once again kindly sponsore
d this issue and it is worth repeating that whilst as an Editor this may make me feel very grateful to them it does not mean that we give their products any special treatment. We are always delighted to get advertising and sponsorship but this will never affect the integrity of our reviews.
On the subject of reviews Wayne, in the full issue, has a great review of some Manfrotto equipment and he also pays a visit to the GadgetShowLive. Ruth also visits the show and both give their opinions. Ruth also looks at the amazing Garmin ActiveSmart - way more than just a fitness tracker and reviews the Sony NWZ-A15 Hi-Res portable music player.
Wayne meanwhile kicks off part one of his in depth look at Magix Music Maker.
Talking of in-depth looks we are holding our look at CyberLinks PowerDirector tools until next issue to do them justice but for results just look at the video in this issue which was all built with it.
Also look out for our general review section where we will shortly be adding reviews of an innovative camera sytem from Swann and really cool aduio device from Edifier.
OPINION - MPG figures
Recently Which in the UK took the MPG testing system to task highlighting as an example of exagerated MPG figures our test vehicle the Outlander PHEV. They are pushing for a more real-world test. The problem with the current test is that it is very hybrid friendly as the vehicles can always start their test journey with a full charge and therefore gain infinite MPG, as they don't use any petrol, on early parts of the test drive. In the real world you would only match these figures if you do short journeys between charges. Over longer journeys, particularly with higher speed driving, the petrol motor will be used and you will get much lower figures.
Mitsubishi are very up front about this and recommend the diesel version for the long distance commuter. They have to quote the official test figure by law and can't give real world figures. The issue I have is that the proposed replacement system will potentially be misleading in the other direction and may ignore the fact that you can gain mileage using a charged battery to start and regenerative braking.
The Which test gave a result of 67MPG for the PHEV which is still pretty amazing for an SUV but in a carefully measured real world drive from Norwich to Hunstanton via Cromer we averaged just under 85MPG. The first 30 miles of this journey should over 100MPG (we couldn't see how much over due to a bug in the MultiMedia system) with the battery initially showing 30 miles range but constantlly being recharged due to regenerative braking. The last part of the journey was on petrol only and was showing MPG around the 40 mark - the point is, though, that this low MPG was only for a very short part of the journey.
The real issue is that any test with a fixed MPG is not goung to give an accurate reflection of how a partially battery powered vehicle is going to perform when MPG can vary over time. The other point is that electricity does cost money (unless you can use a public charger for free) so that needs to be taken into account somehow as well.
MADE IN DERBY FROM DUST
I recently had the chance to visit the Bristol Sound and Vision show a gathering place for High End Audio Enthusiasts alike. Amongst the plethora of Speakers, Amplifiers, Turntables (yes they are back) and even automated vinyl cleaners, one product stood out the Plato System from
Entotem
. This is an Andoid based Music Server combined with an excellent high-end amplifier but with the added bonus of being able to record into digital format from both Vinyl and even cassette. What is more using the Gracenote system it can identify the tracks you have recorded and save them as high quality FLAC audio files. I do mean high quality for as I discovered in a recent trip to their base in Derby their analogue to digital converter is 192KHz/24Bit. Once recorded it can stream these files around your house even to your Sono System, if you have one, with some really clever downsampling.
I also discovered in Derby that this product is being built in the UK and their production line is mind-blowing particularly due to the size of some of the components they are using. I was looking at a table in the production area which appeared to have a pile of dust on one side but I'm glad I idn't sweep it away for what I was looking at was a pile of components. So indeed look out for this pretty amazing system made in Derby from dust.
BACK ISSUES
If you've recently joined us you might be interested to know that all the back issues are still available either from the menu above or by clicking the covers at the very bottom of the page.
This year looks like it will be an exciting time for technology and we are very excited to be able to continue covering it for you.
Garry Whittaker
garry @ fascinatingtech.com
Editor