This 1m long sound-bar is part of a new range from Edifier. We have in the past been very impressed with the quality Edifier manage to produce in relatively low-cost speakers. Their Spinaker Stereo speakers would have won one of our new 'Truly Fascinating' awards if we had been awarding them then. We still rate that clever combination of good speaker technology with electronic magic as one of our favourite sets.
Edifier have now turned their eyes to the growing TV sound bar market. This B7 unit comes with Optical, Phono and 3.5mmbut no HDMI input. A future bar will have HDMI. It also has really good Bluetooth connectivity using A2DP and AVRCP. It doesn't support the higher definition Bluetooth formats coming onto the market but as its digital processing is limited to 16/48 that is less of an issue.
The package we had delivered contained both the Speaker Bar and its accompanying Wireless Subwoofer. The packaging is fascinating in its own right being a single L-Shaped box containing both the bar and subwoofer. People assumed we were having a small chair delivered.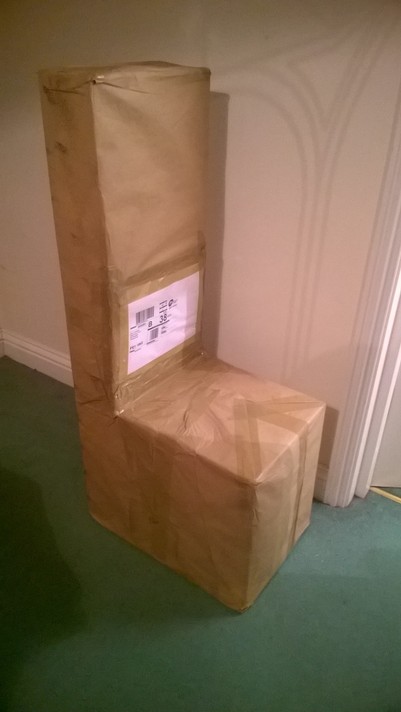 Setup is a breeze. Just plug in your source to the bar and plug it in then plug the subwoofer in. Our subwoofer came pre-paired with the bar but if not it is a simple matter of pressing a paring button on the subwoofer and the supplied remote for the bar.
The remote is the size of a slightly extended credit card and has controls for power, volume, source and three pre-sets for movie, music and news.
These pre-sets vary both the surround field and the amount of bass being fed to the subwoofer.
News is probably best for watching TV broadcasts as it centres the dialogue and minimizes the surround effect.
The surround effect on music is surprisingly effective and pleasant. In fact music sounded very polished for such low cost device. The mid-range was particularly well formed. The only slight negative is a just perceivable rattling in bass heavy music. Surprisingly this came from the bar not the sub-woofer. This was hrdly audible though and may have been emphasised by the fact the bar was on a glass surface. Overall the speaker sounded better than the specs would suggest – testimony once again to Edifier's amazing work in the field of DSP technology.
Switching to movie mode actually cured this vibration and whilst this also narrowed the sound-field music also sounded really good in this mode and some people may prefer to use it this way.
One slight oddity on the controller is that the volume keys have two plus and two minus buttons. We couldn't find any reason for this and it wasn't covered in the manual. All four buttons seem to control the bar volume.
We liked that the bar was suplied with all the cables you needed to get started and very unusually a wall mount if you wanted to use it.
Overall for sub-£250 this is really good system. It is not going to beat some of the £1000 plus devices but it comes close and certainly is a huge improvement on most TV's in-built speakers.
Specifications from Edifier Site:
Total Power Output:RMS 16Wx2(Treble)+19Wx2(Mid-range and bass 75W)

Signal to Noise Ratio:

≧

85dBA

Frequency Response:48Hz~20KHz(±6dB)

Input Sensitivity:Line in:700±50mV

AUX:550±50mV

OPT,COA:400mFFs±50mFFs

Input Type:Auxiliary/Line in/Coaxial/Optical/Bluetooth

Bass Driver:2 3/4"(700mm)

Treble Driver:3/4" (19mm) silk dome tweeter

Subwoofer Driver:8" (210mm)

Speaker Dimension:1000x79x80mm

Packing Box Dimension:1085x645x351mm