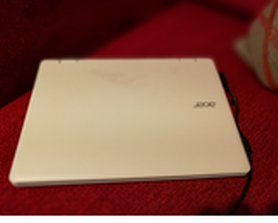 If you are looking for a low cost and fairly stylish but solid feeling laptop then the R11 is for you. It isn't going to win prizes for ganing performance but it is adquate for day to day browsing and word processing. Battery life is pretty good too we got a real world 8 hours.
Clad in a very hard wearing plastic shell that comes in a range of bright colours - a nice touch the hinges are the same colour - this is quite a heavy device for a small screen laptop but that weight is coupled with a real feeling of solidity. Now I mentioned the hinges and they are important for this is a convertible and one of the cheapest out there (currently 230 on Amazon)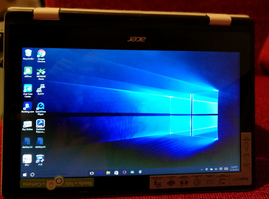 You can fold the screen back on to the back of the keyboad to form a tablet or partly back to form a tent. One of the things we loved is that in tent mode the screen is the other way round to normal but the sound still comes correctly from left and right - the R11 is intelligent enough to swap the Speakers over whenyou fold the screen back. Excellent stuff.
The touch screen does seem to have affected the screen quality which isn't up to the quality I've seen from some other Acer laptops in this price range.
All in all a pretty good convertible, if you accept it is not a graphics workhorse, with great battery life, a below-par but adequate screen,at a pretty amazing price.


Intel Celeron N3050 Dual-core 1.60 GHz
29.5 cm (11.6") HD (1366 x 768) 16:9
2 GB, DDR3L SDRAM
500 GB HDD
Intel HD Graphics with Shared Memory
Edifier M1380 Speakers and Subwoofer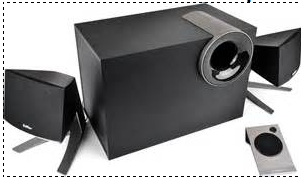 To be honest I wasn't expecting much from this Subwoofer and Satellite combination. They are designed as a fairly cheap add-on for a desktop PC or to connect via 3.5mm jack to a portable audio device or phone. They come with a wired remote that also has a headphone socket. The control has a rotary volume control which slightly annoyingly only controls speaker volume not the headphone socket. Plugging in headphone does mute the speakers.
As I said I wasn't expecting much but I got much more than I was expecting. These are going to blow away most speakers supplied with PCs and certainly those in your laptop. Good rich midrtones and fairly silky high ends but even with the subwoofer a slight thinness to the sound - but for
£52.95 on Amazon currently mazingly good.
I really don't know how Edifier keeps prodcuing low-end sound systems of this quality. Of course if you pay a hundre pounds or so you might get something better but that is really where its competition lies and remember these are only just over 50 quid. They look pretty good too.