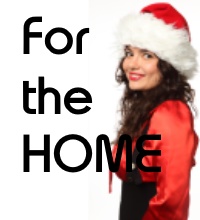 Welcome to FascinatingHome's Gift Guide.
These might be gifts for the holidays (or Christmas as we like to say in the UK : -) ) or for yourself in the sales that seem to follow ever quicker each year.
Whatever the purpose these are some great things to help around the home.

By Ruth with contributions from Garry
First up is the Netatmo Weather station which Ruth reviews.
If you like to watch the weather then this is a modern way to do so. The sensors do not have screens.
The internal one is plugged in and needs power to operate. The external one is battery powered but it ensures that you have an accurate reading of the temperature and humidity outside.
It syncs with your ipad, iphone, android and windows 8 phones. I have internally measurements on temperature, air quality, pressure, humidity and CO2. CO2 does have a light to warn when CO2 levels are too high. The only CO2 alarm I have had previous to this device was an utter pain and went off day and night for no reason.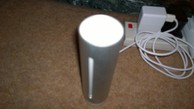 If you press the top of the internal one it will flash green and upload a new reading.
You can see readings from all over Europe so you could even see a different part of the same city to check the temperature. If you are going on holiday no need to rely on a forecast you can see the temperatures in the local area. The more people who have the Netatmo weather station and upload the information, the more detailed picture that will build up over time.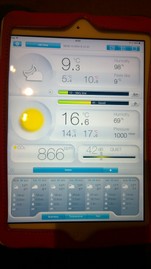 You can see various charts and get full details of the trends. The outdoor sensor is sensible as no need to peer out the window to see if it is raining it will know for you. 7 day forecasts are available too.
What is an unusual is that the internal sensor has a decibel reading. It's nice to see something different on a weather station and this is an interesting added feature. You can pick up your readings from multiple devices which are updated every 5 minutes.
This combined with the app controlled heating systems is really going to help plan for when you need the heating most and to save money.
Quick and easy to set up so easy to be up and running on your wi fi system.
Garry also points out that this is the only Weather system with clients for Windows Phone as well as iPhone and Android. Netatmo also provide a great application interface so programmers could integrate this system into other home automation systems. Garry was easilly able to add readings from the sensors into the VoxCommando system he covered a few issues back.
For the person who loves to keep track of the weather in your family this is a great addition and the perfect present.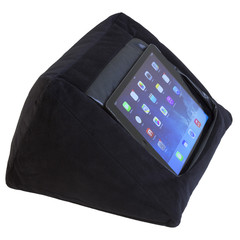 Next up Garry looks at the
iCushion
from
www.mobiletoyz.co.uk
When I was told I was reviewing a cushion I was a little taken aback but this is a really useful cushion indeed. Coated in a black velvet like material this triangular wedge shape cushion has a small pocket on the front to slip your table into. Be that an iPad or Galaxy Tab or even a Microsoft surface. The positioning is perfect for using the device on your lap or say reading in bed.
When using the iCushion on your lap you soon realise the real advantage of using a soft padded stand over a conventional tray or table. It moulds to your legs and as you shift weight it moves with you.
The iCushion can be purchased in many different colours to match your decor. I had the black one to review which felt right at home with my black Surface tablet. When used with the Surface there wasn't really a good way to attach the Surface keyboard and keep it in the iCushion pocket but that is not what it is designed for. Using it in the iCushion without the keyboard gave the perfect touch experience and was far more stable than using the Surface's kick stand on my lap.
I usually start to get shoulder ache when holding a tablet for extended periods this totally alleviated that. Its just great for watching movies as the viewing angle is perfect without the need to hold the tablet at all.
My only slight criticism is I found the tablet had a tendancy to fall out if I handed the iCushion to someone else but this is easy to avoid by holding the device in place - just something you have to remember.
It is really well put together andfeels like it work stand up to every day use. The filling has a bean bag type feel to it which allows it to mould to uneven surfaces but maintain rigidity.
All in all I found the iCushion a, perhaps suprisingly, really good idea and it would make an excellent present. Currently priced at 24.95 GBP and available at
MobileToyz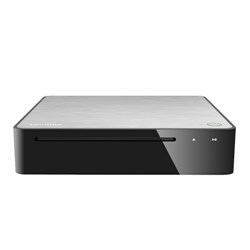 The Toshiba
BDX5500KB Blu-ray player
is
a small black box not much wider than a disc itself, that for just under 120 GBP can take any current Blu-ray format thrown at it and decode both Dolby True HD and DTS-HD. It also outputs up to 2160p resolution (i.e. twice HD) which might b useful with some projection systems.
In use the playback is crisp and vibrant with a natural reproduction of skin tones. It was able to keep up with all the action when playing Enders Game and sounds came through with appropriate punch.
For 120 GBP that would be impressive enough but there is more. This is a Wi-Fi enabled player meaning you can also use Toshiba's Smart TV offerings and whilst the range of these are limited compared to some other manufacturers this does give you access to BBC iPLayer. This seems to have some clever cacheing for whilst other platfoms we had tried this on stuttered in our test environment, playback here was clear, detailed and stutter-free. In fact I would go to say this is the best iPlayer experience I've seen on any platform.
The box also supports play back from DLNA compatible devices (such as PCs) on your network and is a pretty capable network music player.
It has one final trick up its sleeve in that it is also a Miracast receiver allowing Laptop and Tablets that support this standard to project their screens through the BDX5500KB, I have to say we had a lot less luck with this. Many devices including Toshiba's own Encore Mini 7 wouldn't connect to it but a Microsoft Surface did. If this is important to you I would suggest testing your device first.
Connections are limited on the back to HDMI, DIgital Audio (SPDIF Optical) and an Ethernet port. It is nice to see wired networking being supported as well as wireless. This worked well with a Powerline network in a home that gets poor WIFI due to old thick walls.
My only complaint about this unit is the simply terrible remote control that is really unresponsive. Trying with a replacement universal type controller gave a much better experience. Toshiba really need to replace the supplied one.
Overall though this is a lot of machine for the money and would make a great pressie for the movie buff. It is also really portable so could make a good gift for student digs.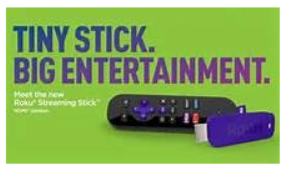 If all you want is streaming and don't need to play back a physical disk then the Roku streaming stick is a good bet and our next present recomendation.
This stick just plugs into the back of your TV in the HDMI socket and into a usb adaptor lugged into the power socket (or usb lead directly into a usb port on your tv if it has one).
You start the set up on your television and connect the device using your home Wifi. You are then asked to use another device to complete set up. I grabbed my mobile phone and was set up in no time.
You have a choice of channels to start with but my one criticism is on the first few that you are offered it does not state if they are charged or free and at this time you have just given your payment method. That I think should be clearly stated.
However you have the usual iPlayer 4OD etc. channels to get you started. There is a wide range of other channels some carry advertising and others are paid for to access but at this point it is clear if you are paying or not when you choose to download the channel.
You can connect your Sky Now.TV connection and Netflix account to this too.
It does not show live television only streamed programs unless the streaming service supports live streams (Sky for example).
It however solves the problem where you have one aerial into your house – usually the lounge and you do not have connections to the bedrooms. There are various methods of getting the signal round the house but this has to be one of the simplest and quickest to set up.
At a mere £49.99 it is well worth the price for the simplicity and convenience.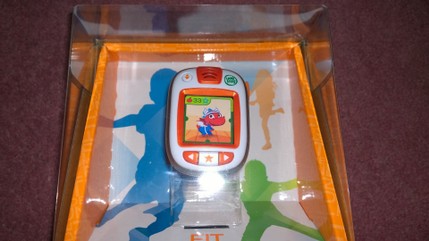 Finally Ruth looks at probably our favourite item of this issue
The Leapfrog Leap Band
Want to get your children active? Are they between 4 and 7 years of age? Then here is a new option for you a leapfrog smart wrist band for them.
A quick charge and install the app (iOS and Android supported). Set up the app details which are school hours and bedtime hours. This turns it into a watch when they are at school so they are not playing when they should be paying attention!
The app is only needed to set up the band but an also be used to monitor activity.
Then strap this on your little one and let them set up their character choosing by scrolling through the choices and selecting their choice and the colour. Then off they go. Press the activity button and they will have the watch talk to them telling them what activity to do. For example swim like a fish and it is accompanied by water sound effect. These are all 10 second activities and they earn jewels. This is what gives their character energy.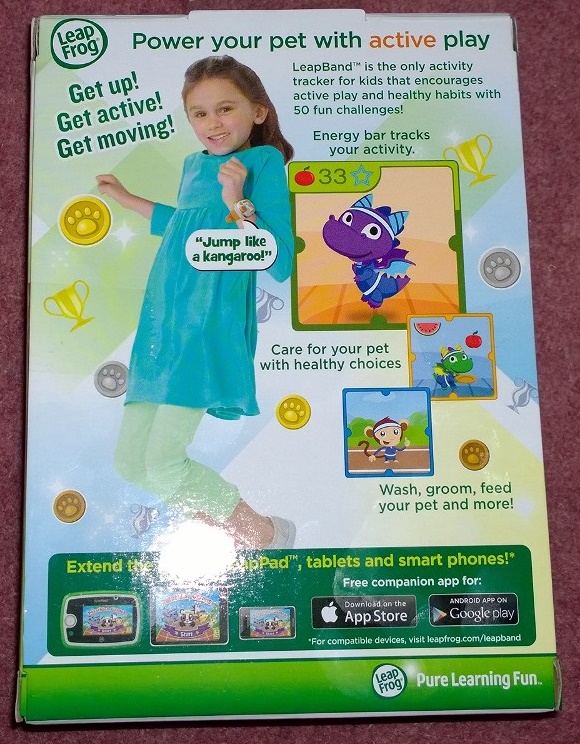 So stop hogging that wearable tech yourself and pass on a great example to your children. Its fun and it's quirky and the little character chats to them. It cheers and claps when they do lots of activities.
I found that my only recommendation would be that the location of the usb charging plug did clash with wrist bones and would be better on the other side of the watch so it does not clash with the bone. It is unusual in that it is a mini and not a micro USB for charging. Again it would be nice if this was changed as it would mean less leads to take when you are travelling as most phones charge on a micro USB these days.
That said it is good fun, encouraging and has a range of activities so they don't keep having the same activity to be done. Whats more it is a great present the kids will actually enjoy.