This phone first strikes you for the large size screen but the phone is slim and impressively light.
It runs on Windows 10 (although it is not powerful enough to have the Continuum feature).
It costs just £79.95 sim free.
It has more memory and to our eyes a better screen than the similarly priced Lumia phones.
The back can be changed and it has two sims so handy for travelling.
The screen is clear and crisp.
Battery life is excellent and it withstands me frequently forgetting to charge it overnight and it is still going strong. Not many smart phones manage two days without charging.
When talking on the phone in a noisy environment it was difficult to hear the other person and I'd be upping the volume.
Plug in a set of headphones and I could not turn it down enough my ears were being blasted but I was on the lowest volume possible. My recommendation is that you get headphones with a volume button on them.
So I thought I'd test the speaker mode as I often use this when I'm trying to multitask. The listener was complaining that they struggled to hear me so that was not one of the better options, when I moved away it was unclear to hear so it defeated the point of the mode.
Performance wise there have been some lock ups and they are caused by Edge and not by the phone so those are issues for Microsoft and not a complaint about the phone. The updates are arriving regularly so hopefully that will get the issues resolved where the internet locks up.
The one other thing with Windows 10 they took away is the Here Drive app….aagh I rely on this for navigation and it showed a button to carry on using this without creating an account…but not amount of pressing the button would have any impact so I ended up winging it. The last thing you want to do when you are going somewhere new is download a new navigation app and maps when you are on your phone connection and not on wi-fi. Again that is a Windows 10 issue and not a phone issue but when you get the phone don't rely on Here Drive make sure you download all the maps and apps before you get going so you don't have that problem. Microsoft's Windows 10 Map app does use Here's maps and is improving but at the moment it just isn't as good.
Editors Note: The decision to remove Here Maps. Drive etc. was not made by Microsoft but by Here's new owners a consortium of car manufacturers. They have decided to not put any further effort into the apps. Microsoft have made a commitment to keep improving the WIndows10 Map app to match the functionality of Here Maps and Drive. Substantial improvements have been made in recent releases. Some user have reported prefering the Maps app to Here Maps so your opinion may vary. We would also recommend looking at alternatives such as Sygic which is based on TomTom's maps.
Putting aside the Windows 10 issues performace on the phone is extremely good and highly competitive with the Lumia Devices priced 50 quid or so more. As Garry showed in his video i
t has more enough performance to run videos and that on the go so that is no problem.
In conclusion I'd recommend that they improve the microphone and speaker and volume settings for the various options but generally a good phone for the price which will only get better as Windows 10 mobile continues to improve.
STM Blazer 13 inch laptop sleeve.
HIGHLY RECOMMENDED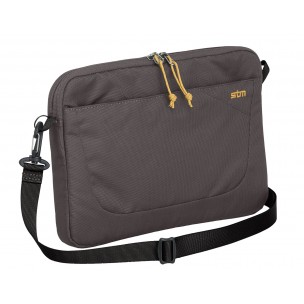 Obviously there is not lots and lots I can say about a laptop sleeve. However I hate clutch bags - what are you really supposed to do with them - they just get in the way when you have a drink/buffet etc!!!
Fortunately the folks at STM have a practical mind and supply a shoulder strap so this is a bag and a sleeve in one. Laptop sleeves on their own are a dust cover or a protection in another bag. This avoids the need for that separate bag.
STM have stuck to their protective instincts and the foam is dense and not just on the sides of the bag but on the edges as well and as we know if you drop a PC chances are it will land on the corner and that is what will cause it to break - well done for not cutting corners.
XCSOURCE Universal QI Wireless Charging Receiver film for micro-USB and Micro-Charging Pad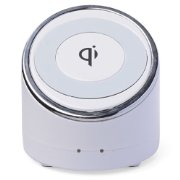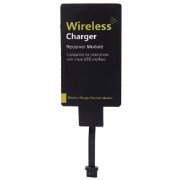 Qi charging has been around for a while but perhaps never this chearp. XCSources's charging pad is currently available on Amazon for only £2.98 an absolute bargain.
Couple this with their micro-USB based receiver and you can charge anything wirelessly. What did Ruth think?
Ok so you don't have the latest phone and you can't change the battery so you can't take advantage of the latest Qi charging?
Not any more technology is evolving so that you stick a receiver on the back of your phone and plug this into your usual USB socket. Then you are good to go simply place your phone on the charging unit and it charges without any need to change your phone or you battery.
The plug in USB lead is a little picky to plug and unplug and I'm not sure how durable this would be if you kept plugging and unplugging this.
The charging unit looks smart and easily tells you if you are charging or not but the bold red and green lights are enough to light a room so do not put this in your bedroom unless you can cover the LEDs up with tape. The phone sits on top of the charging unit with a non slip pad - remember to remove the plastic film from this which isn't too obvious. As with all QI chargers alignment is important but this is where those annoying LEDs actually help turning green when you have the correct alignment.
I'm not sure how long the stickiness of the non stick pad will last but with how cheap this charger is you really can't complain. Excellent for the price.
Finally a quick look at the top of the range Pebble watch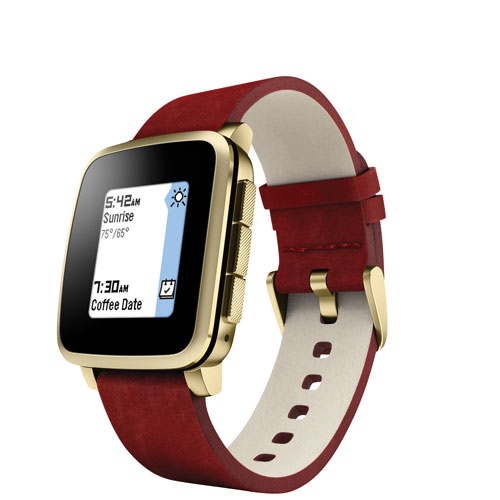 The Pebble Time Steel is the bigger brother of the Pebble Time with a slightly thinner bezel and an improved battery life.
This needs an Android phone or iPhone as the Pebble Time companion App only runs on these - Windows Phones users are out of luck although there are some unoffical apps that may help.
Once you have the Pebble Time app installed you download a selection of phone faces and can then get these onto the phone and change them on the watch as you go. The health app is also included so you get your steps counted and can set your target.
What is better about this watch is that it lasts about 5 days without needing a charge unlike my current daily health device the Microsoft band 2 that frustrating runs out in a day and a half. This is better as it does not spend its life on the charger. However the pebble has its own unique charger so you will need more space if travelling with this.
Note to manufacturers that traveller do get annoyed when we need a different charger for every device. Common sense please.
One thing to note is that the pebble does have the option for third party smart straps (watch straps that can communicate with watch) and there is one of these currently on Kickstarter that will allow for the use of a standard Micro-USB charger. This particualr smart strap fom Pagare can also be used for contactless payments.
The Pebble is a pretty instinctive menu and will tell you if you are a sloth or have a busy diary day. Using physical buttons rather than a touch screen makes it a lot easier to operate by feel alone.
You can get notification of your messages and reply. New faces and apps are being developed all the time by a keen team of developers so you are unlikely to get bored of your watch face whether you want funky or classic. You will also find apps expanding the usefulness of the watch we particularly like the travel app that can add Flight notifications into your daily view or timeline as Pebble likes to call it.
The watch size remains very large for small wrists but the good news is that you can get a strap that enable you to do this up tight enough. It did start to turn my wrist red mind but I imagine this can be changed as unlike the previous model it uses a standard watch strap size - albeit with handy quick release pins. In our box two straps were supplied - a classic metal and a leather one but there are plenty of third-party options to suit your personal taste. There is also an alternative round model of the Pebble out now so that may help with the size issue for smaller wrists although at the cost of reduced battery life.
Overall this works really well and it just can't be beaten on battery life.