Instead of sticking with their ABC, how about getting the little people ahead in the world with a basic start to programming.
Given we are expecting a world where AI will remove the drudgery jobs to computers. So if they know how to program the computers that organise the AI they should be set for life.
This pack consists of a floor mat, a programming board and a wheeled robot. The floor mat is set out in squares and there is a book that sets out short small programs that can be followed by plugging in the various coloured pegs into the programming board.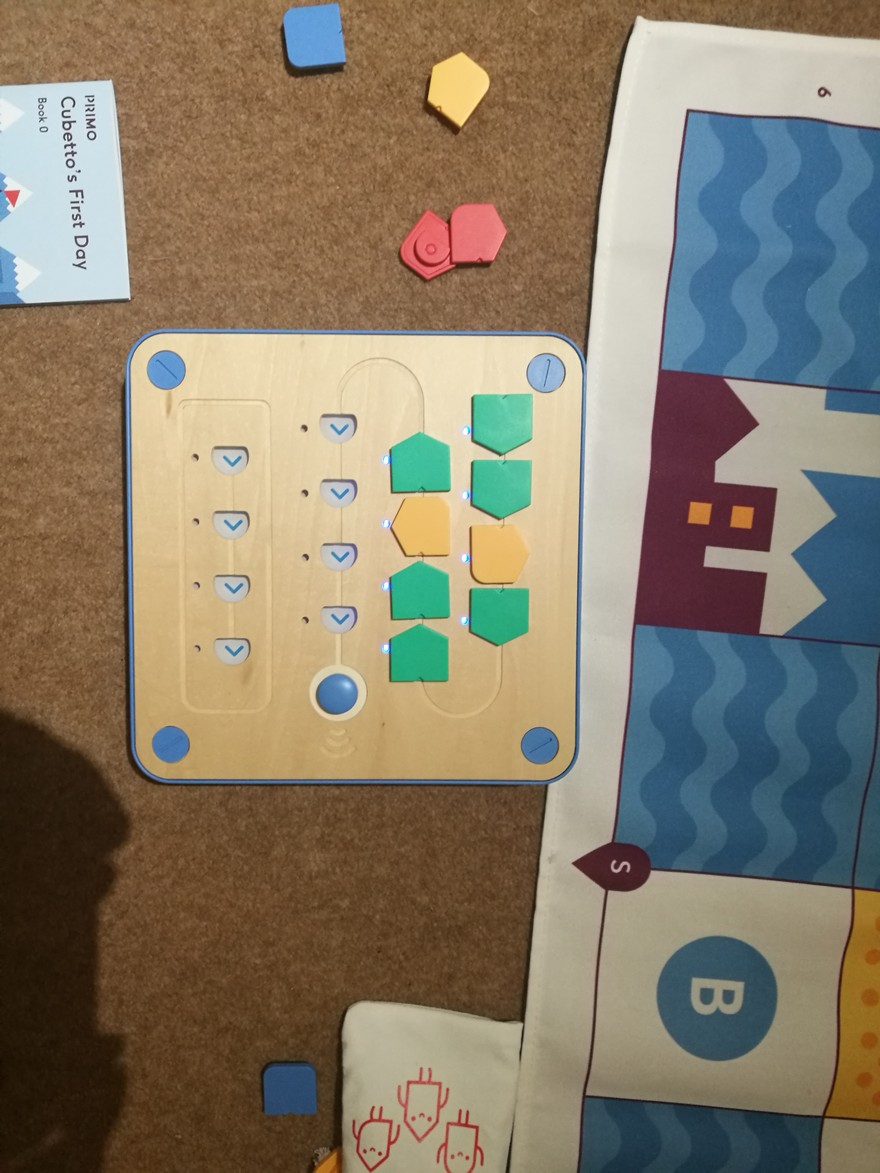 You can also use certain colour peg to follow a prearranged set of moves. The mat is brightly coloured and you have to think about which way you want to move the robot to get the robot between say a picture of a mountain to a tree. Your child will be thinking about if they want the robot to turn right or left to get between the two points. The robot beeps quietly for every move it performs and the light flashes on the program board for the move that it is performing to help the child see what each peg is doing. So if they make a mistake they can easily see which peg to move.
There are several other mats so when they are familiar with one you can move them onto an arctic pack and get them hunting for the whale on the mat all as part of the fun.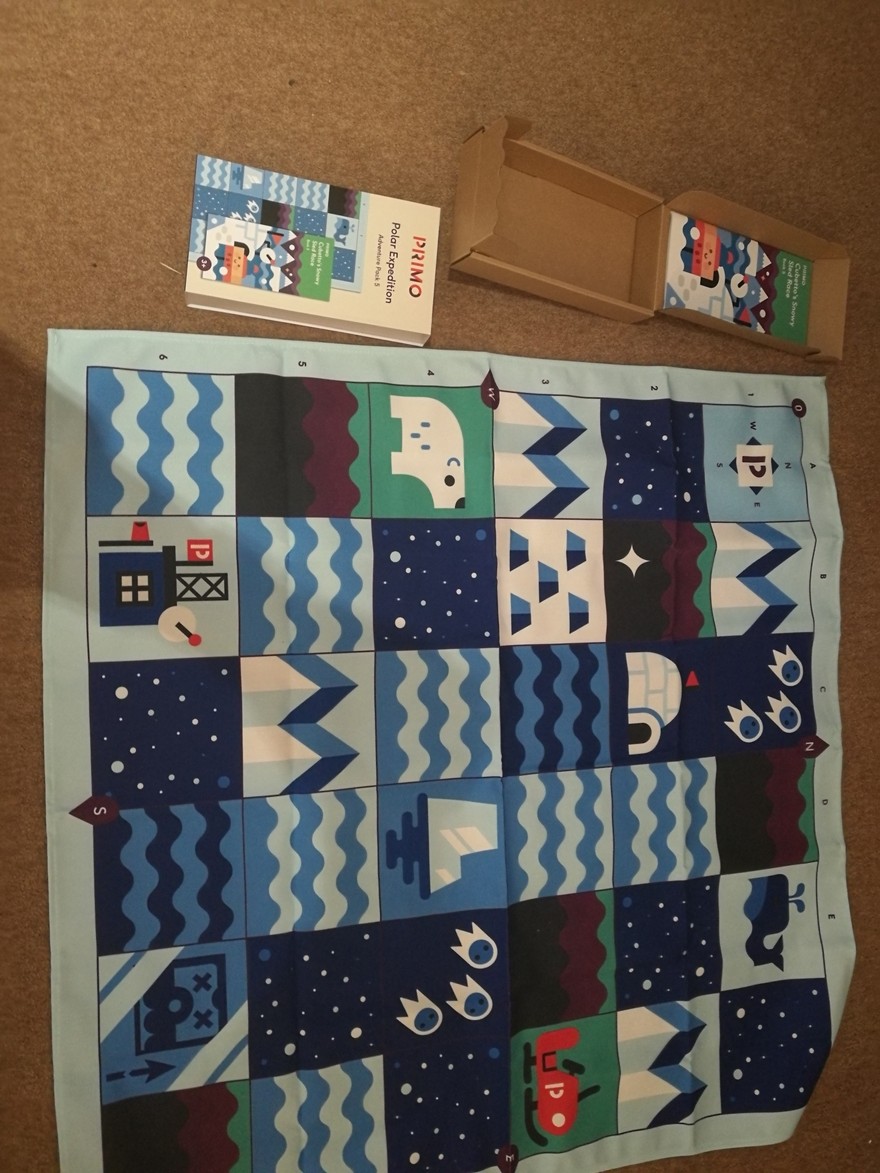 It would be good if the direction on the robot was marked a bit more brightly as it just shows as an indented arrow. A grumpy or tired child may be a little annoyed having to hunt for this.
It is best for a quiet moment when you have worn them out with a long walk. There will be a temptation for them to just wheel the robot about! But hey that is half the fun of a toddler some days they have their own agenda but this may be a good way to teach them a few new tricks without them even being aware they have learnt something new. Best of all parents need absolutely no programming knowledge.
We think this absolutely deserves our

Truly

Fascinating

Award
So what should you be looking for tech in the next few months?
There is a growing trend that for that last mile from work to home we should all be using eco friendly options and as part of a drive in that area Segway were launching their Electric scooter and new electric hoverboards with knee pads to guide them basically. Segway are now targeting the consumer market with prices that are much keener than seen in the past.
There were many imitators at the show with "Segwaylike devices" at a far more affordable price point. This however is talking about the very expensive Segway that is really only for the extremely wealthy or mainly for commercial use.
I think Segway are onto something with the UK pushing towards electric cars over the next few years. The biggest problem is legislation that causes confusion. You can buy a hoverboard but it shouldn't be ridden on the pavement but it is also not roadworthy… Time to end the confusion and perhaps let them be ridden in cycle lanes to avoid confusion for motorists and to promote pedestrian safety?
Someone said to me Shadecraft and went on about a parasol… understandably at this point I was puzzling at the fascination over a parasol but little did I know. After a meeting with Shadecraft I left far more impressed as this is far more than a parasol. Yes it goes up and down like normal but the inbuilt AI was far more interesting. Shadecraft are only just starting to consider the millions of uses that AI will bring in the future. It can track the sun and be in the right place but say you are disable and you can ask the parasol to make a call for you….they have not chosen between Alexa and Google Home so the user can choose the features to add to this. This very much is barely scrapping the surface of the capability of AI. This is a truly intriguing company and one to very much watch with keen graduates working with them. I'm fascinated to see what they are back with next year.
Haier continue to innovate in the domestic market with the fridges that can change parts into freezers and the screens on the doors. They have now been joined by their high end brand from New Zealand of Fisher and Paykal which is for the high end consumer where budget is no object. Dishwasher in a drawer anyone? It is easy to see which collections they are targeting for the states and those which they are pushing for European homes. So if you are pulling out the kitchen and fancy some new ideas take a look at these two.
Acer continue to innovate with the keyboard you can pour fluid over and have a PC survive the ordeal for children to more high-end PC which are incredibly thin and light. Need one to rotate over as a tablet no problem. A very impressive collection of new kit so whether it is a first PC for your children to one that you just love because it looks so gorgeous -take a look. But we should not forget the phenomenal success that they have had with the Predator brand of gaming PCs over the few years. This is moving beyond jus a gaming experience to become an immersive experience with some virtual reality and some mixed reality and some augmented reality. The very high end VR that they have that may appear in car showrooms for example so when you spec your next car it won't be from a brochure!! The success of the predator was summed up by the crowd around the predator.
Where next should cameras go we have had instant printing the move to cameras on your phone the bulk of SLR's but digital. DXO camera can be used on it's own but lacks a screen but plugged into your phone you have all the facilities of an SLR with none of the bulk. Then what about the hassle of stitching together the panoramic shot you want to take. Why bother when Kodak are now promoting 360 degree cameras. See Garry's review next issue to see how he got on.
Another interesting trend is earpieces that you don't wear because you are deaf but they help to filter sound in environments where stress or other conditions can mean that you find it impossible to function in busy environments. I one and am looking forward to seeing a review sample of another that may help in loud environments.
Don't forget the lazy method of shopping with the fridge camera set it us and it can tell you what is close to date and even offer recipe ideas. That could save some food waste and remembering when you are shopping if you need milk or not. Then don't forget you can ask Alexa to put the ikettle on without even getting out of bed.
Headphones start getting smarter. They can read your heartbeart and play music and deal with calls but now Jabra go to the next move with a coaching facility that really knows if you are working out or skiving in the Gym. So if you are brave enough take a look at the headset that detects your reps get a look at Jabra Coach (also reviewed next issue).
STM Grace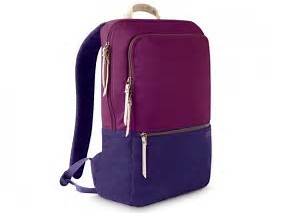 STM continue to expand their range of backpacks and bags and here is one that uses their suspended technology. This means that your laptop is in a padded space suspended off the floor that ladies will love because it is fluffy. Then add to this it is not grey grey grey as they all seem to be . How about some pink and purple to cheer up your day.
This stylish backpack is called Grace and can take a laptop up to 15". It has one zip that is a pocket for the bottom half of the bag then a second zip that takes you into pockets for pens and the like which has a handy key tag and a hole to pop your headphone cable through.
The rear section has the fluffy pocket for the laptop which is suspended and a further slip pocket. There is a zip pocket too. There is also space for other bits and pieces too. It retains the high quality of an STM bag with a metal liner around the cable for your headphones to boost endurance.
If you prefer you can also have this as a shoulder bag in the same smart colour scheme.
The weather may be grey but get into STM and add some colour to your world.