Welcome to Ruth's Reviews a look at the World of Travel, Home and Fitness Gadgets

Ruth starts this issue with something that potentially fits in all three categories although you may first think of health - The Garmin VivoSmart is much more than just an activity tracker. She also reviews a standalone portable music player from Sony and gives her view on GadgetShowLive
Garmin Vivosmart
So how is your new year's resolution going?
It all started well in January but are you really still getting down the gym? Still sticking to the healthy eating plan?
Well why don't you have a great little gadget to help you?
The Garmin Vivo Smart links to your phone using bluetooth and the downloadable Connect app.It initially appears not to have a screen until you tap it twice. Then the screen appears and you can then slide side to side to go through the basic screens. Then tap and hold and you go into the setting screens.
So you start by synching the Bluetooth. Now my phone is not on the officially recognised list and I spent ages trying to get this set up and had to reset the Bluetooth on my phone before it finally connected. Eventually looking on the forums I clearly was not alone in having this problem. Then every time I walk away from my phone it forgets the connection. The game starts again when you go into settings and wait for the code to key into the phone. Then magically I ran an update and it has never asked me for the Bluetooth code and has synched without a problem. So if you get this make sure you update it and connecting to your phone now is a breeze.
This is a wristwatch, date, steps, distance and has the ability to control music on your phone. It vibrates once an hour to remind you to move. Then into settings and it can monitor your sleep, monitor activities. It's got a timer on your activities and it can tell you how fast you cover each mile.
Then you can set up a link to My fitness pal to log your calories too.
So you are about to set off on a run just press and hold and you are into settings. Press on the running person and just tap to start the timer. Then when you have finished stop the timer and hit the save button or if you like the delete button.
About to go to sleep just hit the moon and when you wake up just tap the sum symbol.
If you lose your phone, even if it is on silent mode just tap the phone symbol and your phone will buzz from wherever you left it.
If you are competitive then you need to be using the Garmin connect app and you can compete with your buddies on your runs. You can set up courses and work outs.
What I like is the regular reminder to move. The target that is achievable but challenging. It though does adapt so it you have been running lots and really active it goes up but when you have been less active the target drops so it does not feel unachievable.
The strap is a faff to do up single handed but for once a manufacturer who has a strap that is small enough to fit my wrist so credit where credit is due.
Overall I like this device and would recommend it. I really didn't want to give it back.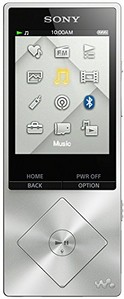 Sony Walkman NWZA15
High Resolution music for your Walkman.
It's interesting to see a standalone device when many devices are converging on your phone. Many of us carry a phone that acts as a camera, MP3 player, video player all in one. They can however be bulky compared to the lightweight standalone Walkman. I have carried Walkman's for a long time and only recently converged to putting music onto my Sony phone. This however is a bulky solution.
The Walkman is light as in really light. It is small and you will barely know this is in your pocket.
The one factor that surprises me is that it does not have a touch screen. Being someone who uses everything touch screen I keep having to remind myself to use the buttons.
This Walkman is a modernisation from the older versions with the addition of:
1. S-Master HX Digital Amplifier to get your sound into high definition. You can download high definition music but also enhance your own downloaded tracks through DSEE HX.
2. It uses clear audio to fine tune the audio for an immersive experience
3. It is installed with NFC and Bluetooth which many of the older players did not have which used to be a nuisance as many devices were aimed at the apple products and you were back to an audio cable to connect. Now you can hook up to speakers and sound bars simply. Great for me who used to spend ages hunting for the Bluetooth connector that plugged into the bottom of my old Walkman.
4. It comes as standard with a 16GB memory but can be upgraded with the addition of an micro SD card up to 64GB in total.
5. Battery life is excellent with 30 hours for standard MP3 and 50 hours for high resolution music.
6. It also does video playback but be careful you have to download their software first and cannot just drop and drag files as I often do with music.
7. It also has a photo library and FM radio which are nothing new.
The chances are that your headphones will be bigger than this device.
The sound range is excellent from high to deep base. Given a decent pair of headphones the world does recede due to the immersive experience. My primary use for this has been as an MP3 player using high definition music and with added downloaded video.
It was quick and responsive and it was easy to select your chosen track. The detail was excellent in the high definition music.
If you are an audiophile listening to music on your phone just would not be an option for you as the compression just loses too much detail. This is a worthwhile option to consider if the quality of your listening experience is important to you as you really won't feel any added weight from this device.
The Gadget Show Live
The gadget show is usually multiple halls filled and the biggest players in attendance to plug their latest products. This year there was a noticeable lack of big names such as Sony, Microsoft, Garmin etc.
I moved around expecting to go into the next hall only to find that there was not one!!!! Has gadget show fallen out with some of the major players?
There was some interesting bit and pieces with Swann expanding their range from cameras into home automation. Airwheel are now plugging the airboard which is less of a balancing challenge and we hope to review that next issue.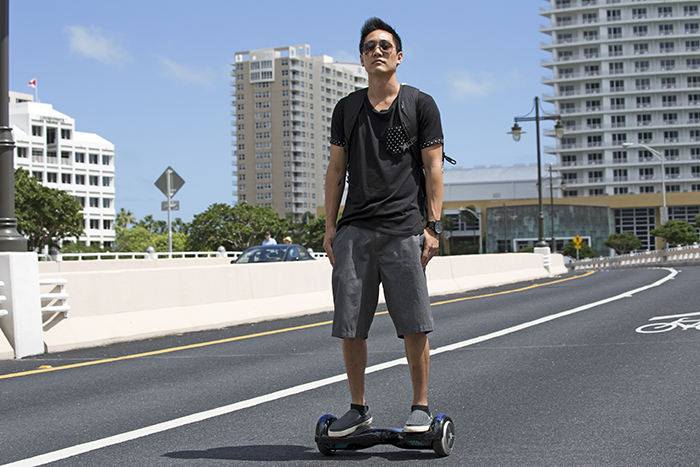 Carrying your laptop can lead to a sore shoulder… not anymore as you can clip this onto the front of your built in scooter and whiz around. Great for those of you attending exhibitions whether as an exhibitor or an attendee
A number of new devices for reading your heart rate while you are exercising but notable these were not from the major players but seller companies keen to get into the market.
Fancy a pizza when you're camping then you are onto a winner with the new barbeque kit… not only will it supply hot water for a mug of tea it will also come with a pizza stone so no more instant mash when camping. Take a look at the ____ for more information.
Then the old gem of charging your phone on your travels well solar is one option with some more ruggedized versions and bigger batteries. A Handy LED light that plugs into your solar charger… no more dim torch light you'll be reading in comfort with this one. Alternatively what about charging your phone from the gas camp cooker that can store energy
So overall a bit dissapointing but still some great stuff to see. It was my colleague Wayne's first time at the show check out his
article
for some more comments on the above.