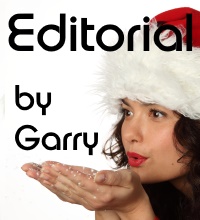 Welcome to the Holidays/Winter 2015 issue. This issue is bursting at the seams with great ideas for gifts.
In this issue we introduce our TrulyFascinating award for those gadgets and that stand out from the crowd. Our first three winners are an Android Wear Watch for Huawei with an exceptional screen and build quality, the amazing iClone 3D animation Software, and a fabulous and affordable 3d Scanner from XYZ printing.
We also look at some great gadgets and software to bring out the creative fun in you. Some easy to use and very affordable Wifi devices from TP-Link. A very portable printer. A fantastic PC build and a lot more.
In the next few days we will be adding some further content - Wayne reviews in his own unique style a Pet Monitoring Camera from Dlink only he uses it for something completley different.
That Dlink Camera is the centrepiece of our great Christmas Prize pack along with some fabulous cases from STM and a lot more.
Hopefully you will find something in this issue to inspire the last minute shopper in you.
Garry Whittaker
garry @ fascinatingtech.com
Editor