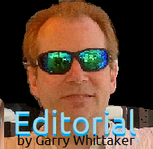 Welcome to the Summer 2014 issue jam packed with all that is fascinating in the world of tech.


This issue features a special on a gadget that really grabbed our attention when we first saw it at the gadgetShow live... the AirWheel (or Turbo Wheel as it was known then). We've got a great interview with Sam from AirWheel and Ruth explains her experiences.


Also in FascinatingTravel Ruth tests some great devices for keeping you safe, a way of getting music out of your cupboard or table, really useful ways of keeping your gadgets charged and a place for you to recharge your own batteries.

Talking of recharging this issue is kindly sponsored by Energizer and whilst as an Editor this may make me feel very grateful to them it does not mean that we gave their products any special treatment. Indeed certain reviewers were deliberately not made aware of the sponsorship. We are always delighted to get advertising and sponsorship but this will never affect the integrity of our reviews.



On the subject of reviews I review an amazingly heavyweight, in more ways than one - we couldn't actually lift it into our normal review room - 7.1ch AV controller and AV amplifier combination from Nakamichi and a light in weight but not in connections speaker from Edifier.





In gadgets Wayne looks in detail at a great Qi charging device and a low cost wifi router. This latter is interesting in that it shows that gadgets don't have to have out of this world or top of the range features to be fascinating. Sometimes they can just be fascinating on the amount and quality of features built in for a really low price.

Also in gadgets Peter gives the latest version of Realallusion's software the once over.




'Computer Lights On' - I've always wanted to say that from seeing early science fiction in my youth. Voice control is a common factor in most of those shows but it has taken us a really long time to get to it. In this issue I see if I can voice control my apartment with the help of a great product called VoxCommando and a remote control form Amulet originally designed for WIndows Media Center.


A GREAT COMPETITION PRIZE PACK THIS MONTH

Finally a big thank you to Energizer, Edifier, STM, Magix, Honestech, WebsiteX5, BitDefender and our other contributors for this issue's fabulous competition prizes

Energizer have given us one of their larger power packs towards the main prize pack but also a load of runner up prizes of their phone power packs. These feature in this month's FascinatingTravel reviews and are really very highy recommended - a great prize. The Edifier speakers gained glowing reviews when first released and will make a great addition to your pc audio. I use an STM bag as my day to day laptop carrier and the build quality has been superb and this is equally highly recommended. The Magix software suite should definitely enhance your creativity. The Honestech software is a fabulous way of creating stop motion animation and finally the WebsiteX5 software is the home version of what we use to create this site - it even comes with free hosting. There are even more prizes than mentioned here in the prize pack so head on over to the competion page to try and win it.


Garry Whittaker
garry @ fascinatingtech.com
Editor