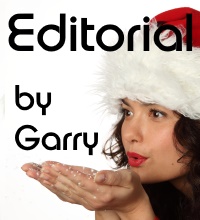 Welcome to the Holidays/Winter 2016 issue. Once again this issue is bursting at the seams with great ideas for gifts and perhaps post-holiday shopping.
This time last year we introduced our TrulyFascinating award for those gadgets and that stand out from the crowd. One of our first winners came from XYZ printing and in this issue Peter reviews one of their newer 3D printers - will it make the grade
We also look at some great creative gadgets and software. Ruth looks at a device for those morning after the party night before. We always advise never drinking and driving but do you know how long after drinking you need to leave it before you are once again safe to drive.
We are delighted to have a new writer joining us - Richard Speed. Richard will be familiar to listeners to theDigitalLifestyle Show and recently joined me on a trip to glasgow to see Acer's latest laptops. He gives an amusing view on that trip in this issue.
I take a look at one of the devices from that trip, the Acer Switch 12 Alpha, and try my hand at drawing.
Our competition prize pack is an exceptional collection of cool gadgets and software worth many hundreds of pounds. A greta present pack for yourself.

Hopefully you will find something in this issue to inspire the last minute shopper in you.
Finally we have a unique opportunity to sponsor this site. This is an incredibly good value way of getting your message seen by thousands of highly engaged readers- please contact me for details.
Garry Whittaker
garry @ fascinatingtech.com
Editor

Picture taken at Acer Live Blog with Honor 8 phone