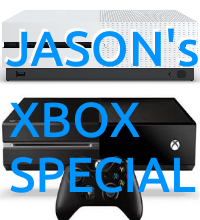 Welcome to special guest columnist Jason Coombes
We are delighted to welcome Jason to this issue. Jason is a co-host of TheDigitalLifestyle Show and brings a weath of gaming knowledge. Here he looks at the latest Xbox One update whidh really changes things.
The Xbox One originally launched on 22
nd
November 2013 and since then the operating system has been regularly updated. These updates were mainly patches to fix issues discovered from people using their Xbox One and some added additional features.
At the 2
nd
anniversary, on 15
th
November 2015, the "New Xbox One Experience" was launched bringing improvements to navigation and the often requested backwards compatibility allowing some Xbox 360 games to be played on the Xbox One. Depending on your interest in the underlying technology powering the Xbox One you might have been aware that the New Xbox One Experience was also more closely aligned with the core of Windows 10 which had launched for PC on the 29
th
July.
Fast forward another year, with Windows 10 about to receive the Anniversary Update, and the Xbox One is about to receive another major update. The update will complete the work to align the core of the operating system with the same code running on the Anniversary Update for Windows 10 on PC and Mobile and for those interested in the technical details all 3 will share the same build number. I mention this because this shared common core enables some of the new features I'll be covering in this article.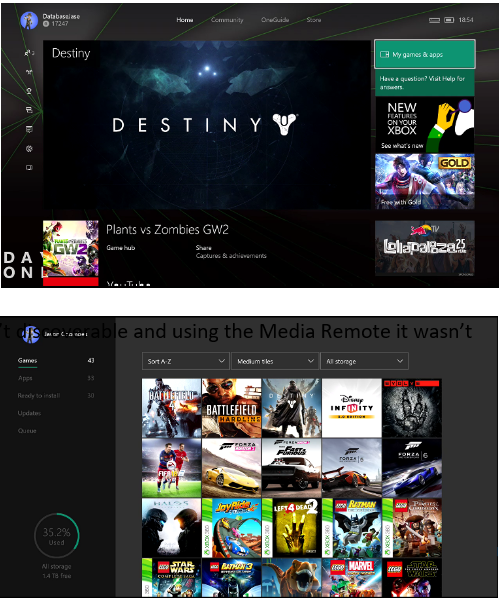 Update
d
User Experience
Over the lifetime of the Xbox One each update has improved the user experience, both in terms of performance and
ease of access, but the New Xbox One Experience from November 2015 also introduced some cumbersome experiences. While the last item accessed was a large tile on the home screen, with other smaller tiles below in order last accessed, it wasn't easy to get to all installed games and apps. An often unknown controller shortcut did help "jump" to the bottom of the list but it wasn't discoverable and using the Media Remote it wasn't possible at all.
Now with the
Summer
Update there is a shortcut on the top right of the home screen so with one movement, and a press on select, you can get to everything installed. While on that topic this area of the Xbox One interface has also been improved with the ability to choose between large, medium, and small tiles and these are now arranged vertically instead of the horizontal arrangement currently used.
There are also more categories so you can easily switch between games and apps but also a section for games and apps that you own but haven't installed. Another section shows any games or apps
that have updates available but that are waiting to be installed (you can then select to update now or wait for the Xbox One to do so automatically when in standby).
Lastly the section showing games and apps that are currently downloading has also been improved and now shows the actual download speed in addition to the percentage complete. While people with high speed Internet connections might not be so interested for anyone still struggling with a less than 10mbit connection it is handy to see so you can turn off any other devices that might be restricting the bandwidth.
Cortana Arrives on Xbox One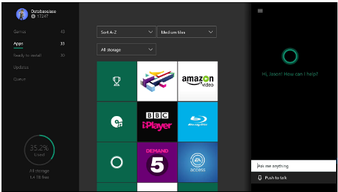 Voice control tends to be a Marmite feature
, you either love it or hate it, but when it works it can make for much faster navigation. While voice control works with Xbox One headsets, meaning you can say "Xbox, record that" to capture the last 30 seconds as a game clip, for everyday use it requires the Kinect so you can use these voice commands at any time (unless you like to sit watching Netflix with an Xbox headset on). Using a Kinect was also the only way to use "Xbox, on" to turn on the Xbox from standby.
The main problem with the voice commands is that they had limited vocabulary and had to be spoken precisely ("Xbox, go to Forza Horizon 2" would work but "Xbox, go to Horizon" would not) and if the phrase wasn't recognised the Xbox took no action at all and didn't even provide feedback that the command hadn't been understood.
With the
Summer
Update the
voice assistant Cortana is coming to
Xbox One
and this should open up the range of commands and also hopefully allow a little more freedom with how to phrase commands. If you are familiar with Windows 10 on PC or Mobile devices, then you'll know that Cortana is Microsoft's personal assistant which can be used to ask questions and also take actions (sending a text message for example on Windows 10 Mobile). For those not familiar with Cortana think Siri (iOS) or Hey Google (Android).
Those used to saying "Xbox" in front of commands will need to re-learn to say "Hey Cortana" instead, this includes turning on the Xbox with "Hey Cortana, Xbox on", but the improvements will hopefully outweigh that change. As an example you can say "Hey Cortana, start a party chat and invite <
gamertag
>" or perhaps "Hey Cortana, when is my next calendar appointment" since she will have access to your full notebook.
I've been using this feature as an Xbox Insider, a group of people selected to test out major updates ahead of general release, and so far the experience has been positive (now that issues associated with any pre-release software have been ironed out).
Universal Windows Platform and Store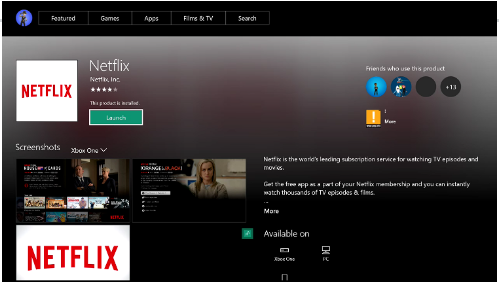 Microsoft has been working to align the
Windows 10
operating system across all devices and the Anniversary Update is a culmination of that work (although it will continue to be improved over time).
Part of that project has been the introduction of apps built on the Universal Windows Platform (UWP) which allows the core elements of an app to be re-used across devices (PC's, Mobile, and now Xbox One). I appreciate this might be technical details that aren't of interest to you but in this context it is important that you have that information.
These UWP apps mean that the same experience runs across all devices, with just the layout of on screen elements adapting to different screen sizes. As an example, the Netflix app will be relaunched as a UWP which means Netflix doesn't need to write and maintain a different app for Xbox than it does for other Windows devices. After the
Summer
Update arrives on Xbox One some of the initial apps to use UWP will be Groove (Microsoft's music service), Films & TV (known as Movies & TV in the US), and Netflix. There will also be other familiar apps that start to appear, for example, the Windows 10 Weather app. It is hoped that apps like BBC iPlayer, which has existed on Xbox but not Windows 10, will be re-written as a UWP resulting in it being available across all devices.
Along with this change is the Universal Store which will also be shared across Xbox One and Windows 10 PC's and Mobile. This allows those UWP apps to be purchased once
and then made available on all your Windows 10 devices.
The
Summer
Update will also introduce games that can be purchased once and played on both Xbox One and Windows 10 devices. When Forza Horizon 3 releases later this year it will be amongst the first games you can purchase once and then play in this way meaning you could save your progress on Xbox One and then pick up later on your Windows 10 device.
This change also means, for the first time, it will be possible for games being played over Xbox Live can compete with people playing the same game on Windows 10. Rocket League is the first game to offer this feature. Additionally, Xbox Live Party chat is no longer restricted to Xbox One so you can talk to friends using Windows 10 even if they aren't playing an Xbox game.
The Xbox app will be updated at the same time as the Anniversary Update rolls out to enable these features plus you can still stream games from your Xbox One to your Windows 10 device.
I've
tried to cover
the main new features coming in the
Summer
Update for Xbox One, which is expected to roll out on 2
nd
August, but there are many more changes including improved sharing features (game clips, etc.) and
customisation of the activity feed.
If you have your Xbox One set to "sleep", instead of turn off, then the update will download and install automatically. There is likely to be a staggered release so don't worry if you don't receive the
update on the 2
nd
August. Hope you enjoy the
Summer
Update and that I've helped prepare you for the main new features coming soon.
Update: Microsoft delivered the Summer Update a few days earlier than anticipated and this started rolling out to everyone on the 30
th
July. Since then they have also released a number of preview updates to people like me enrolled in the Xbox Preview program. These additional updates, containing fixes rather than new features, will continue rolling out so expect quite a few updates over the coming weeks.