The evolving world of car technology with the Toyota C-HR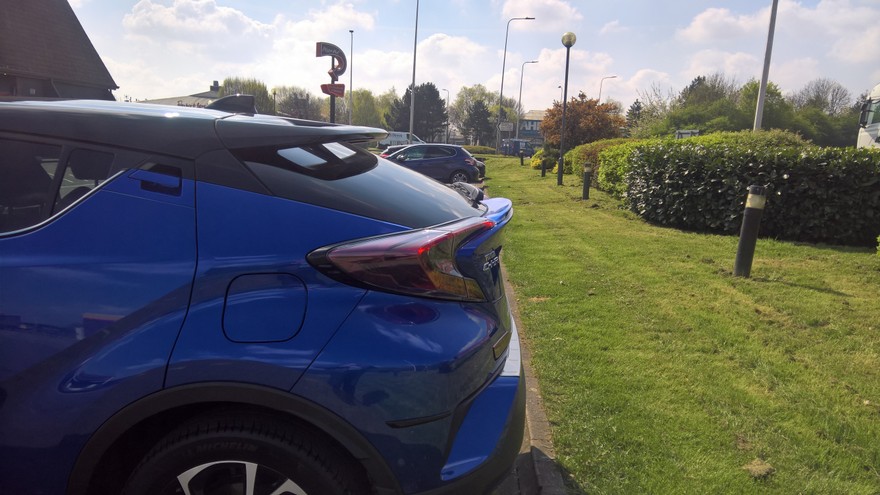 The Toyota C-HR (Coupe High-Rider) is a bit marmite in terms of looks. We love it but others think it is too futuristic particularly compared to Toyota's usual staid approach. Toyota were conciously aiming for a younger market with this vehicle but at nearly £30,000 fully loaded we've found that it is usually the young at heart who can afford it and going on sales figures it has been really popular with wait times stretching into months.
So why are we looking at this vehicle. Well it more than hints at the future of vehicle technology. Firstly it is a hybrid electric/petrol power train coupled by what Toyota call an e-CVT. Forget visions of pulleys and rubber bands this is not the Continuously Variable Transmission of DAF days if you remember back that far. No this is a sophisticated electronically controlled planetary gear coupling that allows a combination of an electric motor and a petrol engine to work together. This is a symbiotic coupling with the Engine being able to spin the electric motor and turn it into a generator to recharge the batteries and the electric motor acting as a giant starter motor for the petrol engine allowing it to be started and stopped in an instant. In many ways this may be one of the biggest leaps in car technology over the past twenty years or so. We've gone from pulling out chokes, turning a key, and hoping the car might turnover and start in a few minutes, to vehicles that start and stop their engines on a whim. This is very important in Toyota's Hybrid system where any moment you might be on Petrol or Electric power.
To get one other important thing out the way first this is not a Plug In vehicle. Any electric miles you get are going to come from the in built batteries being charged by the Petrol Motor. Think of it a bit like the Formula One KERS system where Kinetic Energy is Recovered under deceleration and then made available to aid acceleration. The implementation of the Hybrid system in the C-HR has been perfected by Toyota over many years in their Prius range. The C-HR is built on the same next generation platform as the current Prius which is no bad thing - although as we mentioned before its styling looks like no Prius we've ever seen.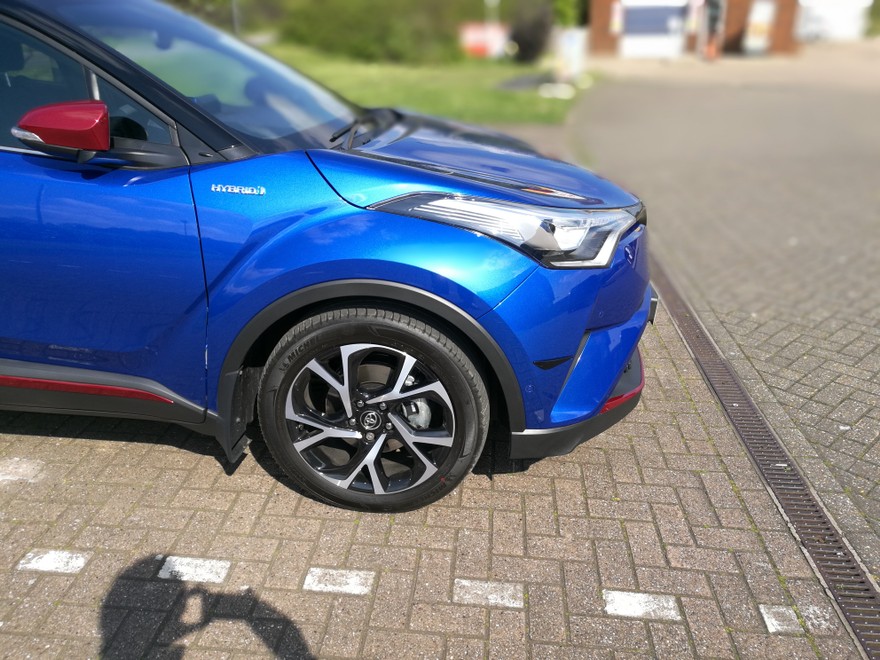 One current good use case for this type of vehicle is for Apartment blocks where tenants do not have access to any form of plug-in power. We do see a future where this will be a real exception and supplying charging infrastucture will become the norm but for now having some of the advantages of a battery powered vehicle but without needing that infrastructure to charge it might prove a good stepping stone.
Why would you want a hybrid? Well three words Fuel Economy and Fun. The first two may seem logical the third maybe not so much. Fuel Economy of the Prius is well known with the kinetic recovery leading to some really impressive figures in scenarios traditional vehicles are not good at e.g. Urban and Extra Urban with particularly good figures when stuck in traffic jams where the petrol engine barely turns on. This led us to achieve 80MPG in the C-HR on a trip round the M25. Overall we've averaged 50MPG in our review vehicle - very impressive for what is a mini MPV.
What about fun? We think electric vehicles have been really mis-sold. It has been all about their green credentials and economy. What it should have been about is their off the line performance. This things have huge amount torque or as we like to say instant zoom. Its like driving a sophisticated bumper car albeit a bumper car with very sophisticated safer features to stop you crashing.
Our favourite is the braking assist that first beeps to tell you to brake when you are approaching something too fast and then automatically applies the brakes if you ignore it to mitigate the accident. As we found out when a deer strayed into our path this works really well and we think should be compulsory on all vehicles.
There is also lane assist which detects the white (or yellow) lines of a lane and beeps if you veer out of the lane without signalling it will also give you a gentle push back into the lane. This is not a Tesla like AutoPilot and it will not actually steer you. We found this less useful and sometimes a little annoying. Fortunately you can turn it off.
We really did like the Adaptive Cruise Control this monitors your distance to the car in front and attempts to keep you at a set distance from that car. You can adjust the distance to allow room (or not) for cars to cut in. If there are no cars ahead then it acts like normal cruise control maintaining a set speed. What we loved about this is that it works down to 0 miles an hour allowing it to take the strain out of traffic jams. If you do come to a complete stop then you have to confirm you want to move again by tapping the accelerator or moving the cruise control lever.
Another feature that works really well is the Automatic Lights and High Beam. This latter turns on your main beams and dips them automatically depending on traffic and oncoming vehicles. We were really scepticle of this but it is brilliant and reacts far quicker than we do.
We also loved the Blind spot detection technology which flashes a light on the wing mirror if a vehicle is overtaking that might be in your blind spot. This also has a mode that detects cross traffic when reversing - really useful when reversing from a parking spot sandwiched between the two vans.
We weren't so keen on the rain sensing window wipers which seem a bit over sensitive but as they can be overridden that wasn't a major problem.
Other tech includes Heated front seats - a luxury that soon becomes more than a nice to have - I want heated seats in all my cars now - and a voice controlled navigation system embedded in a binnacle raised above the centre console. Some people don't like the aesthetics of this but we think it is the perfect position being in the Driver's peripheral vision. The unit itself if proprietary to Toyota and doesn't have modent connectivity like Apple Carplay or Android Auto which is abit of a pity. It is also slow to react at times. Navigation does work pretty well using TomTom maps and the traffic avoidance is excellent especially when coupled to Traffic Info over the internet via a coupled mobile phone.
The Nav system also supplies information about the car including graphically showing the flow of energy in the vehicle.
We felt this could have been done better with other cars giving better indications of energy usage from different systems like say the air conditioning.
One final piece of tech is something the Toyota Salesmen love to show off, the C-HR can park itself. This works in both parallel (kerb side) and parking bay modes. They both need to have cars to line up on to work but most of the time they work really well - although we did find it detecting a flower bed as a parkign space once. It is a bit surreal to have the car steer itself into a space but it managed to get into some tighter spots than I would have thought possible. Fortunately it also has an option to help you get out of a space as well.
Overall the technology is really good and certainly hints towards a semiautonomous driving future.
We really like this car in terms of both looks and fun - especially the off the line performance. The petrol motor can sound a bit odd at times as it sometimes revs hard to charge the battery even at low acceleration but that is something you get used too. Our only real wish would be for a bit more pure electric range as electric driving is real silent-running fun.
During our review we had the chance to spend time with some genuine C-HR owners during Beaulieu's Japanese Vehicle day and although we didn't get a chance to interview on camera them we came away with the feeling that they all genuinely loved their cars. You can see some video of, the very wet, trip down, and the day itself below.