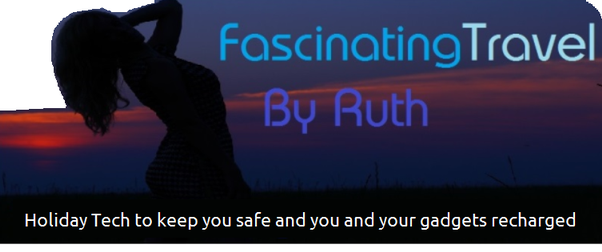 Our own adventurous traveller Ruth looks at what tech might help with your summer holidays.



So you are off on your travels but what should you be packing in your weight allowance? In this issue I take a look at security devices, sound from your wardrobe or table, an alternative to the Golfing Umbrella, great ways to keep your gadgets charged and finally a Hotel advertised as being Hi-tech.

Bunjee security for your phone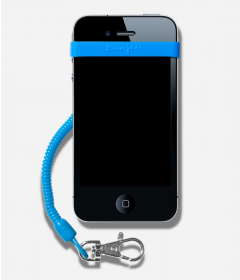 One very simple way to protect your phone is to get yourself a My Bunjee a simple device that slips over your phone and the cable then anchors this either to your jeans or your bag. It seem so simple but when I accidentally dropped my phone, no smashed screen it just bounced straight up. In addition if you are a woman and you have big bag and regularly hunt for your phone this is a great addition to your bag as you can simply pull the bunjee and your phone is found in seconds. The device has a wire built into it to add strength. It seems so simple but it really does hold onto the phone. I tried this on three different phones and it fitted all without any trouble. You can also get a wrist version too.

If you need more information the website is www.mybunjee.com and at £6.99 it is an absolute bargain to thwart pick pockets.




Door Jammer - Now you know those awful hotel doors you often get where quite frankly you have no faith that the door would stand up to a knock on it let alone an assault. This can be a serious matter for a single female travelling alone. While we can try to jam and prop chairs against the door, put our suitcase there, jam clothes under the door none of this is an ideal solution. Trust me I have endured having the power removed from my room by removing the fuse in a desperate and inappropriate attempt to get my attention. Your safety is paramount if you are on the road. So get yourself door jammer this small and light device fits under any door to make attempts to get through much more difficult. In testing no-one got through the door but a very determined pursuer may not care about damaging the door.

This device is simply pushed under the door and the arm is pulled out and screwed down to the floor. This makes it very hard for someone to get through. You need no special skills to do this.

The side attached to the door has a non-slip coating to make it grip the door better. However the glue attaching this to the device could do with upgrading. In testing in a hot country it was moving and had to be reset each morning. That said I do not think it affected the performance of the device but I would prefer this to stay in place.

So now you can sleep in peace confident the only people in the room are the one you let in.
www.door-jammer.com


Rockit speaker. Rock-It 3.0 from orig audio


I've tried various travel speakers but this one is great as it is so small. It relies on being attached to a wardrobe or a glass table or similar to work as it uses the surface to get the sound out. The only slight flaw is that the sticky surface does lose the ability to stick. I found this got dirty of the various hotel surfaces I tested and had to be replaced. They do supply two replacement stickers but I honestly think I would run out on a long trip.

The level of base is good on wardrobes. It is a rechargeable device and seemed to have good battery life. I dropped this in a very silent gym to get a beat going to work out and managed to stick it to a treadmill. I used a kitchen cupboard too which even Garry with his FascinatingAudio ears on had to admit sounded pretty good. It only costs about £10

Technical details
Portable Vibration Speaker Dimensions (8.3 x 8.3 x 2.4 cm) Weight: 2 grams Enclosure colour: White Interface type: USB Rated power: 1W Frequency response Scope: 300Hz-10000Hz Power supply voltage: 3-5v Vibration unit cable length: 90cm Input standard 3.5mm jack Powered via USB or rechargeable Lithium Ion battery

The main website is :- http://www.origaudio.com/shop/index.php?dispatch=products.view&product_id=29778

The UK distributer is : http://awaredistribution.co.uk/origaudio-rock-it-glow-in-the-dark.html


Rainshader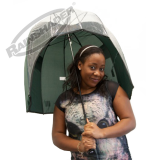 Keeping dry if you stay in the UK can be a challenge so what about a Rainshader? Think of the queen and her big clear brolly. This is even bigger and comes lower down your body. It has just two clear panels at the front to enable you to see. It is designed to be used at sporting events.

The first thing I found with this brolly was that it is huge. When carrying it on my shoulder round Covent Garden I ended up with a sore head. The brolly was not up, I was carrying it in its case and the tourists knocking into it at the bottom caused this to keep hitting my head.

Put it up and your field of view is very narrow and you almost want rear view mirrors to see about you. It however is narrower than a golfing umbrella so easier to get round a busy street.

If you like golf brollies then this may be for you. If you are small like me I find it too big to carry. It won't fit in my handbag and I get a sore head. So while it is a great idea I'd want to see a much smaller form factor.
http://www.rainshader.com/

Alternative view by Garry - Whilst I have to agree with Ruth that for anyone under 6 foot moving around with the RainShader can be challenging especially when put away in its carrier.

However for what it is designed for - sitting in the stands or on the course at a sporting event - then it comes into its own. With an unobscurred forward vision, total coverage so you won't get wet even in a storm and a form-factor that takes up only a minimal amount of space more than you, it is highly practical in these circumstances.

I would be interested to see if you could use this to provide shade in the sun at tennis tournaments but I suspect they might still object - even though you won't be blocking any one's view any more than you would normally. I think for its designed purpose it is superb but I agree with Ruth that it helps to be my height and a smaller model might be a good idea. http://www.rainshader.com/


Keeping juiced up on the road - Energizer Portable Power Packs
Charging on the go can be challenging and although there are a lot of charger packs/power banks out there, many suffer from either having a low capacity or not retaining their charge but this is not so with the Energiser power packs. They come in three sizes 6000maH, 4000maH and 2000maH



The larger Energizer Portable Power Lap Charger is designed to charge tablets and Laptops (although you would need a USB to laptop adaptor for your laptop to do so) It is very capable of charging a high capacity tablet very quickly and and in fact the 6000maH could charge two tablets at once. Something Garry tried and found very impressive. He particularly liked the very clear blue charging indicator that appears when you press the button on the side but just seems to vanish into the glossy black background when the button is released.

This 6000maH version is slightly larger but all of these units are small and smart black power packs.



In my case the unit I tried the Energizer Portable Power Tab Charger with the 4000maH battery, although smaller, still had two usb outputs so you can charge two devices at once. It also charges quickly. You know the day you've had…you fall into bed and fail to charge the phone. No problem with this beauty as your phone will be charged up before you know it.

Just plug in and press the button on the side and that is it. It is quickest re-charged direct on a socket rather than plugged into a PC. It weighs next to nothing and one charge is enough to charge two phones. I've left mine in my bag for a couple of weeks and had no trouble unlike some others I've used that seemed to lose power.

My Brother ended up making very practical use of one of the 2000maH Energizer Portable Power Smartphone Chargers :


What a handy device when the Hospital told my partner she could not re-charge her phone in the Hospital I was stuck as to what to do as staying in touch with friends and family was so important to her. Then I was told to try the 2000maH Energizer, I could simply charge up the device at home and take it to my partner during visiting hours to allowing her to charge her phone and more importantly stay in touch with friends and family. Highly recommended.

To be honest there is so only so much you can say when reviewing a power bank but these really deliver.

So why run out of juice when you can be prepared with these smart, stylish and most importantly effective devices. As my brother said and I totally agree Highly Recommended.

Finally these can be really useful even if you haven't got one with you, for unlike other power packs these come fully charged - so in a real emergency you can pop along to your nearest Argos buy one from £29.99 and be back up and running. We really like this feature.


Solar Charger

What if you can't get to a plug for a few days? If you are in a sunny spot you could get yourself a Mobile Solar Chargers' device.

Whilst a slightly bulky device when compared with other charger packs, and probably too bulky for most day to day uses - you wouldn't slip it in most pockets - this is still very useful. Pop it out in the sun or clip it to your rucksack and this should be good for a trickle charge of your phone. It works very well when initially charged and in bright conditions but when trickle charging from solar it does take longer to pick up the charge. I struggled in the UK to get beyond two of the blue marks that show the charge level. It has 4 lights to indicate power charge. It also comes with a full range of power attachments so you can connect to lots of different devices.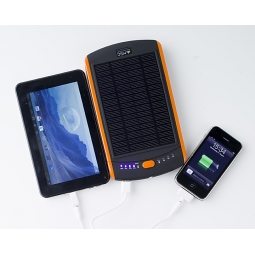 Having said about the UK sun. the company's site does clearly state that the solar is not intended to fully charge the device and in bright sunlight it should be enough to trickle charge the device.

One thing to watch is that you need to press and hold the button to toggle between re-charging and charging device. This is noted in the instructions but all of our reviewers found this confusing so it is perhaps something that needs a clearer explanation. The dcoumentation is the one thing we felt could definitely do with improving it is currently a single page of A4. Perhaps a video explanation on the suppliers' site might be useful.

We have to say though with sizes up to 23000mAh and the ability to retain the charge for six months these are pretty much a must have for the long distance traveller (although the 23000mAh version will set you back £99+) We could live with the slight bulk when carried in our backpack.

www.mobilesolarchargers.co.uk

Carrying your gadgets STM Sequel
You will need somewhere to carry your gadgets and the Sequel from Sydney, Australia STM bags may be a perfect fit.

Designed to carry 13 inch laptops and a tablet in comfort our tests proved we could easiily carry both a 13inch Macbook Air and an iPad plus loads of accesories, paperwork and even an umbrella in the zipped section on the front (for very useful quick access without having to undo the buckle.)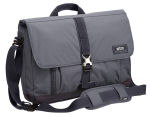 As with most STM bags the balance on the shoulder felt just right and it seemed built to last. I probably need a slightly bigger bag for all my stuff but the Sequel more than coped with the load mentioned above and is a lot more compact than the one I usually carry. Highly recommended if you want to travel a little lighter.

http://www.stmbags.com.au/catalog/laptop-bags/sequel-small-laptop-shoulder-bag/


What about a hi-tech hotel? - Bloc hotels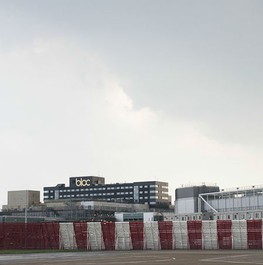 So you've travelled and now you have arrived. You want somewhere to stay which is as gadgety as you have become reading this magazine. Take a look at Bloc hotel. They have branches at Gatwick and Birmingham. The rooms are small and designed to be hi-tech with controls all set out on a tablet pc. (Samsung Galaxy) These are designed for a quick stop over rather than a long term stay.

Room access is keyless at the moment using RFID technology but you still get an RFID fob. When asked about the advertised ability to use your phone to access your room I was advised that this app is still being fine tuned. So not yet in use which was disappointing.

The tablet provides control for your blinds, air conditioning and lights but didn't allow access to thei nternet. Why not I would ask as this would have been useful. I guess it may be that they wanted to ensure that you could always easilly access the light switch which might have been difficult if browsing the web but still its a shame.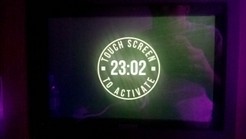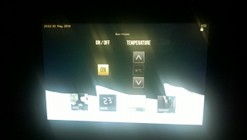 The wifi was quick and easy to connect to and did not appear to be overloaded. The soundproofing to the outside was excellent - the one I stayed at was overlooking London Gatwick's runway and I couldn't hear the planes. Between rooms was way better than many hotels but a little noise could still be heard.

The rooms were fine for a single but if sharing you would have to climb over your partner to get out due to the double bed being rammed up against the wall with window - that is if you had a window some rooms don't. However they are well laid out to make the best use of the small space.

Sadly for me the joys of some idiot who needed a smoke and attempted to remove the detector raised a fire alarm that would wake the dead. It was shockingly noisy but in fairness when your safety was at issue you do want to be sure you would be woken.

Given the hi-tech nature of the hotel I think they should have from their computerised control been able to see where the offender was and silence the alarm sooner. However it did work and everyone was out in their PJ's trailing down the emergency exits.

Check out involved no effort having set it all up the night before other than walking out the door and handing in the key. Once the app is working this will be even slicker.

I look forward to the app working when it might be more interesting but I would certainly consider staying again particularly at Gatwick where the proximity to the airport was a real bonus.