Garry's SMART HOME ON THE CHEAP
A MORE COLOURFUL KITCHEN
If you head into any Kitchen showroom you are sure to see the use of coloured lighting accents usually in the form of LED light strips. These light strips can be set to any colour of your choosing and stuck under Cabinets or along the floor line.
This effect is really nice and relatively easy to obtain. There has been for a long time a standard in RGB stips known as SMD and most of the strips in Kitchen's conforming to the SMD 5050 standard. These sticky backed strips have 4 connectors one each for Red, Green and Blue and one for 12V. These are in the form of edge connectors and it is very easy to obtain connectors to join strips either straight or L-shape.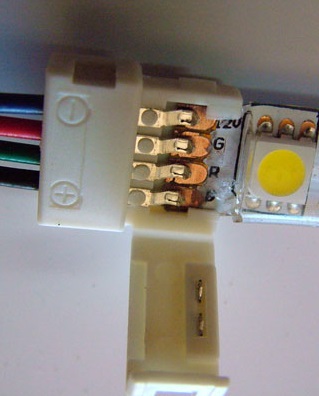 The first time I saw the L connectors was around a picture frame forming a really nice lighting affect.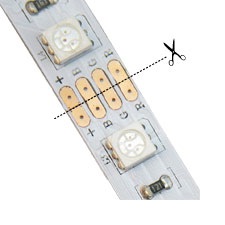 One thing to note in your planning is that these strips have a sequence of a number of LEDs then a point where the strip can be cut to form an edge connector. This can limit how precisely you can line up strips - some judicious use of joins to adjust length can be beneficial here (each join adds a small amount of length)
Another thing to note is the joins are not normally sticky-backed and some double-sided tape is most useful. Actually double-sided tape needs to be part of your arsenal as the LED strips are not always all that sticky and often fall off when they get warm - double sided-tape often works better.
One final thing to note is that there is a limit of how long each strip can be without needing further power. With most modern units you should be able to go 5 Metres without issue but check the spec.
Finally before we get started a warning. These LEDs will need a 12V supply and whilst many of these will plug into a normal socket if you want to properly wire these in then you should check your local electrical regulations (these are often stricter for Kitchens due to water proximity) and if you are at all uncomfortable call a local electrician. In some areas this sort of work needs to be signed off by an electrician.
So where do you get your LED Strip from and how do you automate it. The easy approach would be to buy one of the ready made LED strip systems from either Philips Hue or LIFX but let's look at cost.
Taking the Hue for example and say we want to do a 5 metre run. Each Master Hue kit can do 2m and the extensions 1M so we will need 4 kits. 1 master and 3 extensions. The cheapest price i could find for a master is £64.99 and the extensions £19.99 so straight off the bat that is nearly £125.
With Lifx we are even more expensive with the first 2m starting at £122 and additional metres at £29.99.
We can do so much better.
If we were to do a 5M run with the standard sort of infrared remote you see in Kitchen showrooms we could use something like the Topsharp kit that is currently £13.99 on Amazon. This contains 5M of LEDs, a controller, an Infrared remote and a power supply. All you would need to add are some joins a pack of which should be less than a tenner.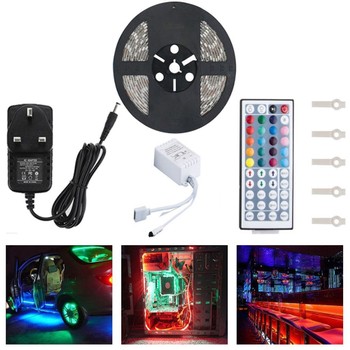 There are other alternatives and suppliers with very similar packs and we are not particularly recommending this make but it has been highly reviewed on Amazon.
Now this system is great and it might be if you have an infrared transmitter in your home automation setup you could integrate it that way but if we are honest it is unlikely you will have such a transmitter in your kitchen.
So how do we get round this and integrate such a solution into our home automation.
This is also relevant if you already have LED strips prefitted in your kitchen as they more than likely will have this type of controller.
As we said above most of these strips follow the SMD 5050 standard and therefore the controllers are easilly replaceable.
There are a number of replacement controllers on the market that work with an App called MagicHome. These connect over WiFi and have Amazon Alexa skills or if you prefer Google Home integration.
It is a simple task of swapping out the infrared controller for the MagicHome one.
Amazon currently has many different choices of these with the one from MagicHue being the one we used. At less than ten pounds this seems a bargain and retains the ability to use an infrared controller as well as the WiFi.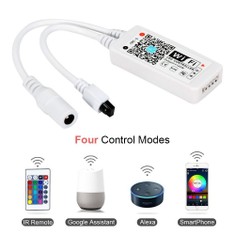 Swapping this in was a real doddle, you just need to pay attention to lining up the 12v (usually marked with a black line), and the app is very intuitive. Setup was particularly easy as their is a QR code on the device to scan to install the App. We were soon up and running. Adding the skill into Alexa was equally easy and we were soon asking our Echo to turn the Kitchen purple. We also liked a fun feature of the App where you could use the microphone of your phone to listen to music playing and create a lightshow in time to the music - great fun.
The cost for this controller £9.95.
Of course if you were starting from scratch you could skip buying the kit above and just buy the controller some LED Strip and a power supply. We reckon you could get this all for around £20.
Now I hear those people who have followed this column asking but how do I integrate this setup into my existing Home Automation system. These controllers are used in a lot of systems and therefore most of the common home control systems have plugins for them. On the Domoticz system I use these are covered by the Arilux hardware plugin. One gotcha is you will need to get the IP address of the device (which you can find in the app) and I recommend giving this either a fixed IP or a long reservation on DHCP (see your router documentation on how to do this)
Once integrated you can use Domoticz to turn these lights on a timer or in response to a motion sensor (or perhaps a combination of the two to give a night light)
A really nice side effect of this controller is that when you turn the lights on they fade up which is perfect for a night light.
So what do you think Hue/Lifx for over £100 or homegrown for around £20 - we know what our choice would be. To be fair we did have a failure of the first controller we got in the first week but this was quickly replaced and the current one has been running for over 3 months.
SENSORS EVERYWHERE WITH XIAOMI
Whilst I was in Singapore last year I got to play with a smart home alarm system from Xiaomi which is remarkably cheap for what it does. This consists of a plug-in controller and associated sensors and switches. The controller has a built in Zigbee wireless and is able to transmit and receive from Presence Sensors, Wall plugs, Temperature Sensors, Water leak sensors and magnetic door sensors to name a few... the range is constantly expanding. The controller also acts as a WiFi gateway allowing app control of anything connected to it over the Xiaomi Zigbee standard. A quick aside here although Zigbee is a radio standard how manufacturers implement control over it is up to them and at present only Xiaomi Zigbee devices work with its controller.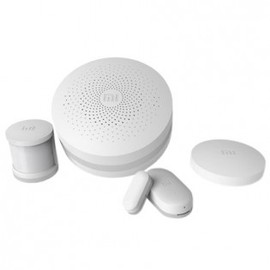 Now for a sub £30 device the controller already does a lot but that is not all. It has a nightlight built in - a multicolour LED light everybit as easy to control as devices say from Hue. It has WiFi radio built - unfortunately currently only in chinese. It has a built in alarm playback with a choice of sounds or you can record your own. The one I looked at had the owner's voice telling intruders to stay where they are and that the police have been called.
What really impressed me was the size of the sensors both the presence and water leak detectors- they are tiny more people should make their sensors this big. They are so tiny that they totally not obvious once installed which is exactly what you want from a security system.
Setup was remarkably easy and setting up rules in the app was incredibly straightforward and I soon had the gateway light turning on in response to motion.
I particularly liked the very neat water leak detector. it was remarkably sensitive and small enough to be really discrete.
All in all this a brilliant system and there are integrations being created for it for most of the major home automation systems including Domoticz.
So what is the catch. Well there is a big one for European users. Xiaomi have only designed this for their home market and some asian market so it is not CE certified. This means it is illegal to import the controller into Europe and would probably invalidate your insurance if it caused an issue. It also only has a chinese/austrailian plug.
Xiaomi take note if you take the effort to certify this for the european market you have a real winner here.
TEMPERATURE SENSORS AT LOW COST
One thing I've been trying to integrate into my Home Automation system lately is a better idea of the heat flow betwen rooms. To this end I needed to acquire some more temperature sensors. I wanted ones that actually had a temperature display on them.
I found a few standalone units using 433Mhz which were suprisingly expensive. Now previously I have used the sensors I got with a weather station to talk to Domoticz and this has worked well. I wondered if I could get add-on sensors for the weather station any cheaper than standalone units and indeed I could... a lot cheaper. I picked up 2 sensors for just over £4 plus postage.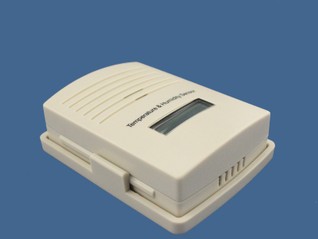 These did exactly what I wanted and had the bonus of showing humidity as well.
I know have these integrated into Domoticz using my RFLink receiver to receive their 433Mhz transmission. Unlike many sensors I did not have to adjust the values received in Domoticz and they appear to give very accurate readings.
I've now set one of these up in the bathroom and am using the humidity sensor to trigger the bathroom fan.
Just goes to show you don't have to spend a fortune to get some really good results.