Welcome to the Spring 2014 issue jam packed with all that is fascinating in the world of tech.

This issue features the world of video. In FascinatingPhoto Wayne takes an indepth look at a set of tools from ProDad that really allow the amateur hobbyist to produce amazing professional results.

Also in FascinatingPhoto Peter tests some great software for putting a story behind your photos.


With insurance fraud involving fake accidents on the increase it has become important to have evidence of what actually happened. In FascinatingAuto we look at the trend for on board video gathering in cars and compare hardware and pure software solutions.

Ruth has been keeping on her Robot theme and takes a preview of what is new in the world of iRobot.



I review the amazing Nakamichi Dragon Lilly speaker and also take a look at creating a do it yourself multiroom audio solution comparing using DLNA with Airplay.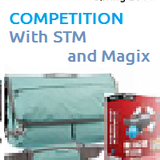 Finally a big thank you to STM and Magix for this issue's fabulous competition prizes

I use an STM bag as my day to day laptop carrier and the build quality has been superb and highly recommended. The Magix software, which includes a video and audio capture dongle, is a fabulous way to drag those old memories into a digital world. Two of you can win both of these great items.


Garry Whittaker
garry @ fascinatingtech.com
Editor