Vegas Movie Studio 14 Platinum
Introduction
Released in time to edit the 2017 crop of summer holiday videos, Vegas Movie Studio 14 Platinum offers a wide range of features but faces stiff competition from not only the likes of Adobe, but also from siblings within the Magix stable.
Originally a Sony product, Vegas Movie Studio was acquired by Magix and version 14 is the first full release from the new owners.
Not to be confused with the Pro editions of the software, there are three flavours of Movie Studio to choose from: Movie Studio, Movie Platinum and Movie Suite, with progressively more features in each (along with a naturally steeper price tag). In this review, I will be taking a look at the Platinum edition of the application, which currently retails for $79.99.
Requirements
The basic system requirements are quite low, with 2GB RAM and a 2GHz processor required along with 512MB of graphics memory (on an Intel, NVIDIA or AMD graphics card). 64 bit Windows 7 or above is required and a CD, DVD or Blu-Ray burner is needed for the creation of media.
These seem very low, and I doubt a user would be particularly productive at such a level. My test system was a Core i7 with 16GB RAM, which had no problem running the application.
Installation
The Magix influence can be felt as soon as installation kicks off, requiring the use of the familiar Magix key registration utility to unlock the software. Once installation is complete and the application loads, the first of the changes made by Magix can be seen.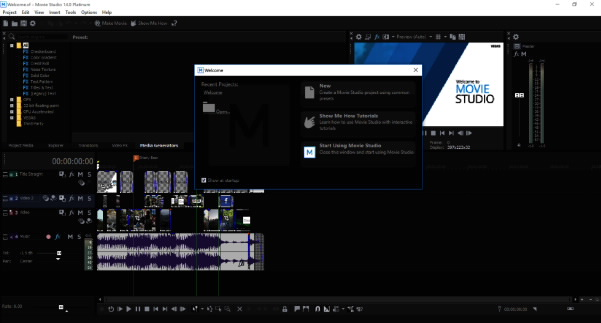 As is the fashion, the new interface is dark themed. While not to my taste, it certainly looks smart and, most importantly, is DPI aware. This means that switching between a high DPI laptop screen (such as my Dell XPS 13) to a large monitor is seamless and lacks the scaling problems seen on several other video editors (Magix Movie Edit Pro, I am looking at you). I was also pleased to see the use of standard common dialogs for functions such as Open or Save, which will flatten the learning curve somewhat.
Getting Started
Once a user has moved beyond the most basic video editing functions of their smartphone or the likes of the much-missed Windows Movie Maker, the jump to more advanced video production can be daunting, with impenetrable interfaces and complexities introduced seemingly for the sake of it. Vegas Movie Studio attempts to overcome this with an excellent online tutorial, which introduces the user to the editor tools and windows with clear graphical cues.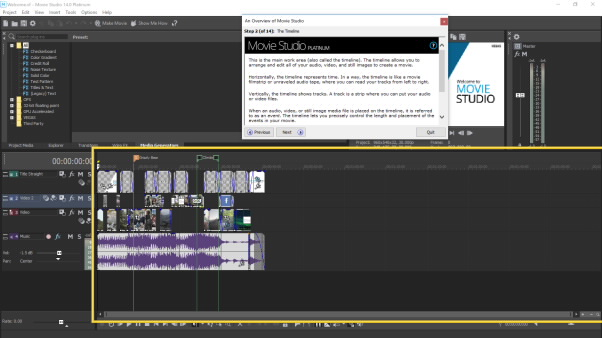 After an hour or so of tutorials (less, if you're the kind of user like me that tends to ignore manuals until nobody is looking), it is simple to jump into a new project. Movie Studio 14 Platinum provides a number of presets with which to get started, all of which can be tinkered with later.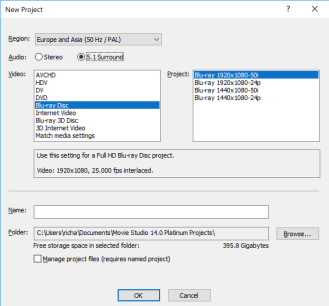 Timelines
In common with most video editors, Movie Studio 14 Platinum provides a timeline into which different video and audio tracks can be placed. Up to 200 tracks are supported in the Platinum and Suite products while the basic Movie Studio package will only allow up to 10. 10 tracks may be enough to start with, but most users will quickly find themselves needing more as additional audio and video timelines are added for effects such as credits scene transitions. Certainly, for the sake of an additional $30, it is worth getting the Platinum product rather than the basic package.

Creating additional tracks is a trivial matter, and it is equally simple to add media to a track, simply by dragging and dropping to the required position, either from Windows Explorer or through a browser built into Movie Studio 14 Platinum itself. The heritage of Movie Studio can show itself here – I attempted to add a .mov file taken with a 5-year-old digital camera and Movie Studio 14 Platinum insisted that QuickTime must be installed. Since Apple dropped support for QuickTime for Windows in 2016, I found myself having to use a 3rd party tool (in this case HandBrake) to convert the file to use a .m4v container, which is a bit disappointing and may confuse the consumers at which Movie Studio 14 Platinum is aimed.
Media may be trimmed during the import process or once in the timeline, with a range of editing tools to mark crop points. Movie Studio 14 Platinum will also update the video settings of the project to match the imported video or vice versa. Thankfully, a warning appears before this happens.
Finally, media may be imported directly from a DV or HDV source, with audio pulled in directly from a CD.
Transitions and Effects
While getting media into a track is simple, applying transitions and effects is slightly more complicated. And again, Movie Studio 14 Platinum does feel a little dated in this regard, with an explorer interface used to navigate to the required transition type. There is a search option, but I found it to be a little hit and miss in my testing.

However, clunky navigation aside, there is a breath-taking variety of a transitions available within the application, from a wide variety of sources. The Platinum edition includes a number from NewBlue and OpenFX plug-ins can also be used.
Wipes, 3D effects, dissolves and so on are all easily dragged and dropped onto the required track in the timeline at the end of an event (such as a video clip) or between two events and then configured. Each transition appears with a short animation to show what it does (when selected) which helps with understanding, although it would be useful to be able to view the transition preview using one's own content rather than a pre-canned animation from A to B.
Configuring the transitions requires considerable effort on the part of the user – the possible options for each vary wildly and are not something that can be leapt into without first spending some time in the user guide and also doing some experimentation. Some of the transitions contain a bewildering number of settings and bely the professional origin of portions of the application. However, with some perseverance a user can expect some very impressive results, and user defined presets can be saved against a transition to speed the process of configuration in future projects.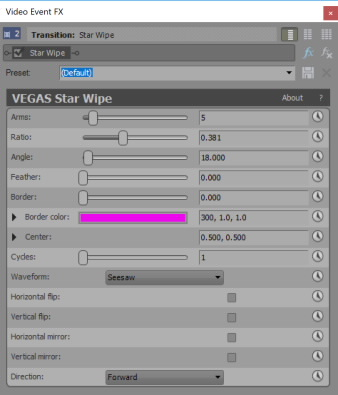 Finally, care must also be taken not to throw too many transitions and fades at a project from an aesthetic standpoint (unless one is aiming for a cheesy 1980's direct to video look and feel).
Panning and Tracking
Movie Studio 14 Platinum offers a comprehensive array of zoom and panning tools to allow effects such as Picture-in-Picture and video animation. Since a separate track is required for each video, a user would quickly hit the 20 track limit in the basic Movie Studio package if many of these functions are used.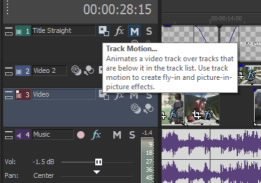 However, as with the transitions, this feature is well hidden in the interface and only a user determined to get through the tutorials will find it. Users willing to persevere will be rewarded with a variety of motion tools to apply to projects, including rotation and position. Keyframes may also be defined to allow for some basic animation of the video. It is also possible to apply drop shadow or glow effects.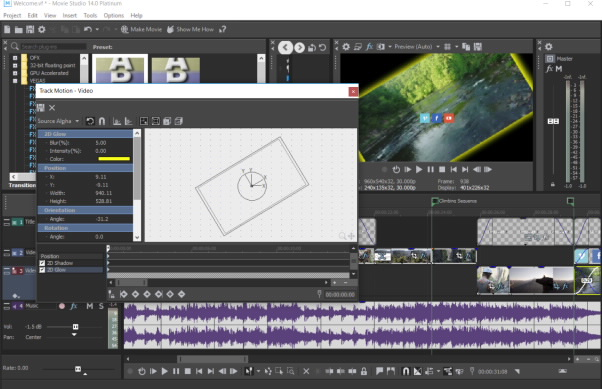 As motion edits are made, the video preview window is updated to give an idea of what the motion settings will look like. As with the transitions, there are many settings that can be adjusted, which may prove a barrier to new users. Some ready-to-use presets would perhaps have been useful.
VideoFX
As well as the tools to add transitions between video events, Movie Studio 14 Platinum provides a huge range of tools to correct and improve video clips themselves ranging from the trivial (exactly how many blurring tools does a person truly need?) to the essential. Any number of these effects can be applied to a single event, although the interface to do so can be a little frustrating to use and navigating through the effects on offer is not very intuitive (with some very useful options a little too well hidden).
Noise, Grain and Film effects can be added to give a video the effect of being broadcast on a poorly tuned analogue television, or shot on elderly film stock rather than digitally. The television effect can be further enhanced (if 'enhanced' is the correct word) by a TV Simulator, which will add scan lines to a video clip. A Bump Map may be applied to give texture and lighting to an otherwise flat image. A News Print effect gives the appearance of a newspaper photograph and two types of pixelation effects will provide a blocky appearance. Blurring effects (Linear, Gaussian, Radial and Quick) are present, along with Spherize, Deform and Swirl, which will distort the video image as the names suggest.
The wonderfully named 'Convolution Kernel' can be used to create an embossed version of the image, which might have been useful in a 1980's episode of Doctor Who, but is of little use besides the eye-catching name.
More subtle effects are available, with standards such as White Balance, Brightness and Contrast as well as the ability to switch to black and white or sepia tones. A Threshold filter can also be used to reduce the colour count in order to make the creation of a colour keyed mask easier.
With all the video effects, animation can be used via keyframes to smoothly animate an effect from one setting to another (for example, to go from light to heavy pixilation).
Correcting Colours
I was surprised to see a Colour Match tool in the VideoFX selection, since this is something I associate more with professional level software. Where there are multiple clips or the same scene or multicam sources, differences in colour saturation can be jarring. Unlike many of the near-professional level features in Movie Studio 14 Platinum that tend to be a little complicated in places, selecting a reference colour clip and pointing it at a target clip for matching is a straightforward process. Some additional configurability is possible with a 'Strength' slider to control how aggressively the colour matching function performs, but the defaults should be sufficient for most users. I found the results of this function excellent and was disappointed that it was hidden amongst less useful features.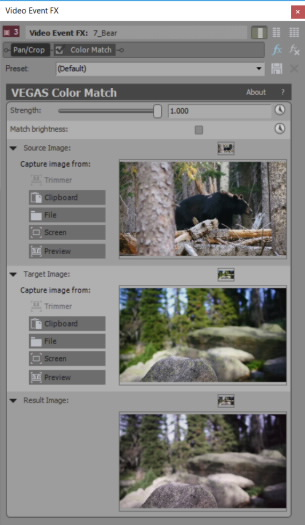 Other colour configuration tools include a Broadcast Colours tool to adjust luminance and chrominance in order to avoid using colours potentially out of range for a television display. Chroma Blur will adjust the chromacity value of an image to smooth high contract images (and also help create smoother masks). Colour Correction provides a simple way to adjust the colour tone of a video clip without unduly affecting the balance.
HSL Adjust allows for the adjustment of the hue, saturation and luminance in a video, as the acronym suggests. Colour Balance is a simple RGB adjustment tool, while Channel Blend initially looks similar, but allows for special effects through copying the characteristics of one channel to another, working in either RGB and alpha or hue, saturation, luminance and alpha. Several Channel Blend presets are provided and I found it remarkably easy to create a deeply unpleasant mix of colours. Channel Blend is perhaps not a tool for the faint hearted.
The Black Restore effect is a nod to streaming services, allowing for compensation for noise in highly compressed formats. The threshold for Black Restore is the point at which any RGB colour (based on a weighted average) is set to black.
Stability
Not a reference to how often Movie Studio 14 Platinum crashed (although it did so more than once – a prudent user will need to save projects frequently), but instead tools to stabilise videos. I was pleased to find a 'Stabilize' function in the VideoFX section, since shaky video can be the bane of the amateur film-maker. The presets for Light, Medium and Heavy stabilisation work well, fixing much of my bad camera work. Additional settings allow for shutter correction, to fix skewing during horizontal motion or stretching during vertical motion. Again, these settings performed well.
Compositing and Masks
Another well-hidden feature of Movie Studio 14 Platinum is the Compositing Mode, which allows the transparency of one video track to be set to allow a video track beneath to become visible. A mask may also be defined and one of luminance, RGB or alpha channel used to define the transparency. As with the transition effects, there is the potential for ferocious complexity as one works through the dialogs, but professional looking results can be achieved without necessarily having to shoot video in front of a green screen. However, if a green or blue-screened video is available or a mask has been created using the Threshold tool, then Chroma Keying can also be used to achieve a very satisfactory finish.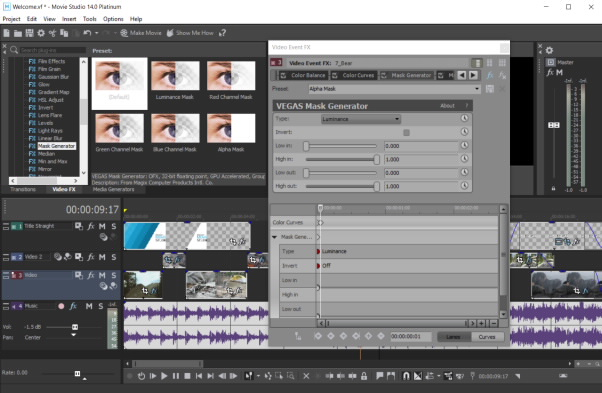 3D Editing
Movie Studio 14 Platinum has support for 3D video, although only stereoscopic. There is no support for 360-degree video or the emerging VR formats, which is a shame (particularly since this is particularly well supported by other products in the MAGIX stable). That aside, if 3D is a requirement, then Movie Studio 14 Platinum has the tools required to author in stereoscopic 3D, to the point where the preview window can show 3D content for wearers of anaglyphic 3D glasses. It is possible to view 3D output through supported 3D televisions or NVIDIA graphics cards supporting 3D Vision technology.
Separate tracks are required on the timeline for the left and right views and, unless the media has been synchronised at source or the cameras were genlocked together, it can be tricky to ensure the tracks are in alignment. Using the opacity functions to ensure the clips match is the recommended approach, but feels somewhat clunky in use, certainly when compared to MAGIX Movie Edit Pro
Titles Text and other Media
Adding text to video is a common function, and so I was surprised to find it tucked away on the Media Generators tab, beneath a function to add a test pattern to a video. I understand alphabetical sorting of functions, but I would expect a feature such as text to be promoted to a position on the toolbar!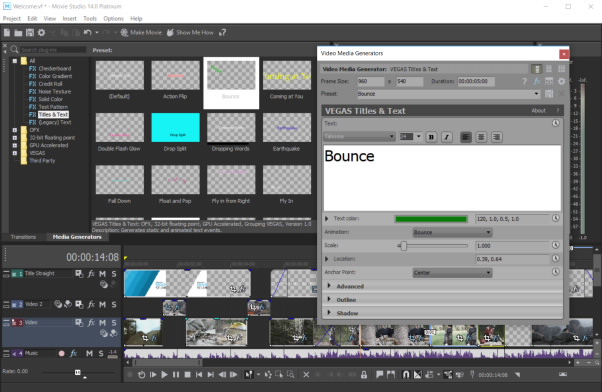 As with transitions and other effects, a preview of the text animation is shown in the list, giving an idea of what to expect. This is useful, because the text itself does not immediately appear in the preview window. Instead, the user must manually select the location and enter the text into the properties window. This feels pretty unintuitive and a little old-fashioned in use. However, there is huge flexibility in what can be done over and above the presets – any system font may be used at any size, and the colour and outline can be configured. Commonly used configurations can also be saved as custom presets, which will save time for users prepared to learn all the options.
Multicamera Editing
New to Movie Studio Platinum is support for Multicamera video, where instead of a single video clip being used, multiple 'takes' are supported at once, from which the user can select. Video for a single scene can be captured from up to 4 cameras and then edited in the timeline. This feature has fantastic potential for wannabe film makers, but there are some significant limitations.
The major issue with the multicamera implementation is synchronisation. Much like editing stereoscopic 3D files, the method used to synchronise the 'takes' is more than a little clunky, requiring the user to either work from the audio waveform to identify a clapperboard-type event or manually eyeball the image to ensure the video from the different camera sources is synchronised. Neither approach is ideal, and it is a good idea to ensure all cameras are of the same model with the same settings to avoid colour matching pain.
The other limitation is one of previewing the selection of video takes. While selecting a camera source for a given scene is simple, actually seeing the results of the selection in a preview video is only possible through an external monitor or by deactivating the multicamera editing mode, which is inconvenient.
Those annoyances aside, it is nice to see this type of functionality appearing in a product aimed at consumers, just the implementation leaves a little to be desired at the moment.
Audio
Movie Studio 14 Platinum supports basic stereo and 5.1 surround sound, although previewing a 5.1 surround sound project will require a sound card capable of supporting it and some powered speakers to actually listen to it. Once configured, setting an audio track for the left or right channel (for stereo) or to a 5.1 channel is straightforward. However, configuring the panning of audio for a surround sound project is little trickier than a simple left or right pan for a stereo audio track.
Again, Movie Studio 14 Platinum provides the tools to achieve a professional effect, but it takes effort to find and understand the more complicated settings.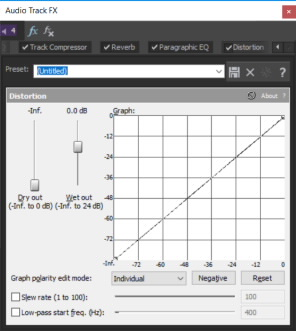 Effects may also be applied to audio tracks, and a limited array is provided within the package (including a number of plug-ins from the original Sony XFX-3 pack) giving options for distortion, reverb and equalisation amongst others. Of all the components in Movie Studio 14 Platinum, the audio effects are perhaps the least well documented and so are the most impenetrable. It is a shame there is little assistance provided to a novice user who perhaps just wants to reduce echo or background noise but might struggle with the breadth of options available for each effect.
With audio, it is also worth noting that a simple master bus control is provided to control audio output levels over the entire project for users that do not wish to go into too much depth.
Music Maker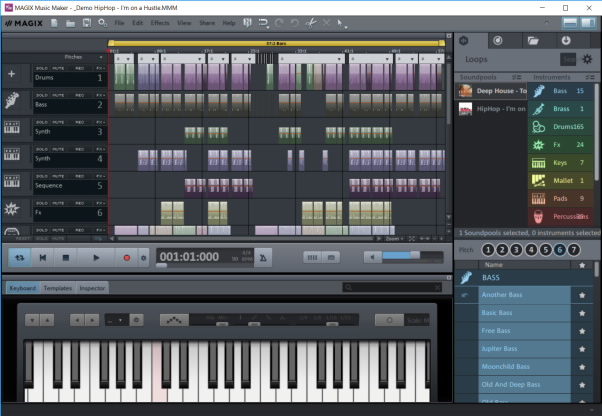 Bundled with Movie Studio 14 Platinum is the MAGIX Music Maker package, to create a royalty-free soundtrack for the project. I took a look at MAGIX Music Maker in the previous issue, and little has changed – it represents a simple way of creating some music, although the difference in interface (and poor support for high DPI displays) may be jarring for some.
I was, however, very disappointed to see the set-up program for Music Maker attempt to install a Windows optimiser called SimpliClean as a default. Unchecking the box prevented the install, but it is really not acceptable that a retail product should attempt to force an unrelated application onto a user's system in this way.
Rendering Video
Once a project is completed, Movie Studio 14 Platinum offers a number of options to render the finished product. WMV, MOV (where QuickTime is installed), MPEG-2, MP4 and AVCHD formats are supported. The resolution and frame rate of the finished video file is defined as part of the project properties, and up to full 4K is supported at 60fps. The pixel aspect ratio may be adjusted to handle differences between widescreen and square screens, although I recommend sticking with the presets, which handle most eventualities. Audio may be 16 bit stereo or surround up to 48,000 Hz. Again, using the defaults will suit most users.
It is also possible to upload directly to Facebook, YouTube or Vimeo, although I suspect most users would want to check the finished product before doing so since while the preview window is helpful, it can be a little rough compared to a full render.
Rendering can also be done directly to Blu-ray or DVD (provided compatible hardware is available) although this will create a simple video disk. To create an authored disc with features such as menus requires an authoring package, such as DVD Architect, which is included in the Movie Studio 14 Platinum package (see below).
Actually, rendering the finished file can take a while, depending on hardware. Movie Studio 14 Platinum provides an estimate, but in my testing, I found it wildly inaccurate, with a HD render estimated at 35 minutes coming in at just under 4. To be fair, I'm much happier with the estimate being pessimistic rather than the 'progress bar of lies' that is so often the case.
DVD Architect
Bundled in the package is the DVD Architect application (acquired by MAGIX from Sony.) As with the Music Maker tool, this is an entirely separate application launched from within Movie Studio. It may also be launched as stand-alone program. As a value proposition, this is excellent to see, and provides the tools necessary to author simple DVD's or Blu-ray discs with menu structures and chapter headings.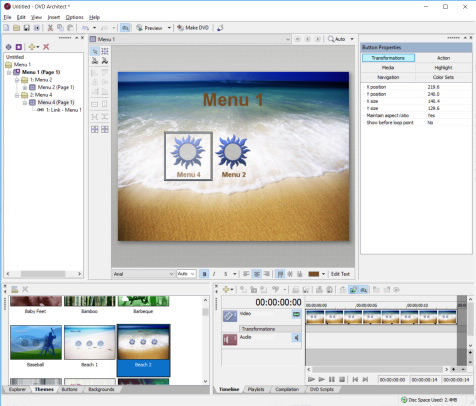 However, this application has quite a steep learning curve and, while the documentation is detailed and features tutorials in a similar vein to those found in Movie Studio 14 Platinum, the user interface and workflows are significantly different, with DVD Architect very much showing its age compared to the polish applied to Movie Studio.
I had some difficulty with making the integration between Movie Studio 14 Platinum and DVD Architect work as expected and found the most reliable approach was to first render the video in Movie Studio and simply use it as a resource in DVD Architect. Be aware, however, that DVD Architect does require some time to be invested in the tutorials before creating menus and layouts to avoid time consuming errors (although these are mitigated somewhat by an excellent preview function).
It is also unfortunate that while Movie Studio 14 Platinum supports 4K video, DVD Architect does not.
Conclusion
There is much to like in Movie Studio 14 Platinum, and it may seem that I have given it a bit of a hard time. The interface has a polished, modern feel to it and supports high DPI displays. It has some editing features that wouldn't be out of place in a professional level application and some excellent documentation and tutorials to help get the best out of the software.
Add in the bundled Music Maker and DVD Architect software, and the value for money of this package cannot be disputed.
However, the professional features could also confuse the consumers at whom this product is targeted – there is little to assist a user trying to get deeper into the effects and transitions – and the user interface itself sometimes seems to delight in hiding away some of the more useful features. The lack of 360-degree video support is unfortunate and will hopefully be rectified in a future release, and the multicamera support feels more like a novelty rather than a fully-fledged feature at this stage. I do also have some concerns about general stability – the application crashed a number of times in use – and being forced to install software that Apple discontinued in 2016 feels wrong somehow and smacks a little of a lack of development in some areas in this release.
Ultimately, the entire suite represents great value for money despite my reservations, coming in below competing products such as CyberLink PowerDirector and Adobe Premiere Elements while perhaps lacking their polish.