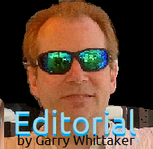 Welcome to the Autumn (Fall for our American readers) 2014 issue. This issue is a little different. With most companies gearing up for the Holiday period we will have a bumper edition then full of reviews. This edition is more about opinion.
We look at the best of Consumer Electronics which were displayed at IFA Berlin at the start of September. This is Europe's biggest show of its kind and where a lot of new announcements are made. This year Intel chose it to launch its highly important Core M chip and we cover that and much more in our Best of IFA feature

Also in FascinatingTravel Ruth tests another fantastic device for keeping you safe the SpareOne. A phone that amazingly in this day and age runs on a single AA battery.
Talking of batteries this issue is again kindly sponsored by Energizer and it is worth repeating that whilst as an Editor this may make me feel very grateful to them it does not mean that we gave their products any special treatment. Indeed certain reviewers were deliberately not made aware of the sponsorship. We are always delighted to get advertising and sponsorship but this will never affect the integrity of our reviews.



On the subject of reviews Wayne has a great video shoot-out between two competitors to the Action Camera crown with mixed results.

He also looks at some great Stop Motion software. Ruth reviews some software herself and I take a look at a security camera system from Swann that uses WiFi.
Finally it is all about time. In this months great
Fascinating
Debate
we look at Smart Watches and Watches that are Smart. I review the Pebble Steel and Wayne counters by reviewing his own Casio Timepiece. Then Ruth, Wayne and myself all leap in with our opinions on the state of the SmartWatch.
A GREAT COMPETITION PRIZE THIS ISSUE

Finally a big thank you to Energizer for this issue's fabulous competition prizes

This issue and for the next couple of months you have the chance to win one of the Fabulous SpareOne phones Ruth reviews this issue. Not only that but there is one up for grabs every fortnight until the start of december.

Finally I really must apologise for the late arrival of this issue.
Some of our review items were delayed getting to us and we decided to hold up publication to be able to bring you a couple of the great reviews in this issue which I hope you think is worthwhile.
Unfortunately since then our hosting service also had a few issues and you can throw a server crash into the mix sent to try us. So all in all we have had some challenges to overcome but its all coming together now.
I'm pleased to say all the remaining gaps have been filled in from the backups.
Garry Whittaker
garry @ fascinatingtech.com
Editor

READERS OFFER
UK readers of FascinatingTech can get a discount off the price of a SpareOne phone plus free shipping (please note for shipping chose FedEx International Economy at $29.87 which will be discounted at final checkout) To get this offer pelase use the code FASTECH14 at checkout on www.spareone.com (please note we were originally incorrectly given www.spareone.co.uk for this offer please use .com)