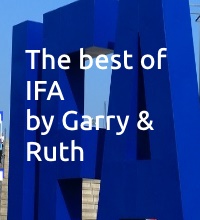 In this feature we look at some of the best technology to come out of this year's IFA show in Berlin. IFA which takes place in early september each year, is one of Europes Largest, if not its largest, Consumer Electronics Shows.
Spread over a week, if you count the rather chaotic press days at the start, it encompasses all elements of consumer electronics from fridge freezers to computer with personal care and coffee makers some way between. The press days occur just before the event opens to the public and are happening as the stands are being built meaning once again our intreped reporters had to keep their wits about them for errant fork lifts.
Usually they are really worth attending and there is always a major announcement or two. This year though major announcements were thin on the ground but we did still find some cool stuff to look at.
I wrote all of the above for last year's version of this article and to be honest nothing has changed. The press days this year were still fairly poor but there was fun tech to be found.
HONOR 8
One of the best things about this year was that on the trip out I was able to test out the Honor 8 phone I had been given in Paris the previous week. Full disclosure here Honor paid for my and a lot of other Journalists transport and accomodation. I always find this very difficult as such trips could be seen as an attempt to sway my review but infact they tend to have the opposite effect in that I become even more determined to find fault if there is any to be seen to be fair.
I hadn't intended to like the Honor 8 as much as I do. After all you could claim with some justification that it is just the Huawei P9 we reviewed a few months ago in a differentcase. Indeed the specs are the same even down to the dual cameras. Although the Honor 8 loses the Leica branding. There are a few software differences. The Honor as an eye comfort mode that reduces the blue glare from the screen - a novelty perhaps but one I found worked well when reading at night.
It also has slightly different camera software - all though you would struggle to initially find the differences. The main difference though is to me the Honor 8 camera just seemed far more responsive and taking photos with it was a joy.
A picture paints a thousand words so here are a few I took in Holland on the way to Berlin and Back