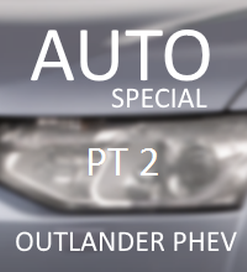 Continuing from the last issue we have pt 2 of our Mitsubishi Phev rveiew. To recap here is what we started with last issue:
When people think of SUV's they often have the view of the Chelsea Tractor guzzling up petrol as it does the school run. Yes there are some advantages to an SUV in visibility, space and safety but for a lot of people these are totally offset by the high fuel consumption with even modern vehicles averaging less than 30 MPG in urban driving
What if we were to tell you that a few weeks back we were driving around town in a sizeable 4x4 and getting over 85MPG. What if we were to further tell you that this vehicle is exempt from Car Duty, can be driven into the London Congestion charge area without cost (you do have to register first) and is in the 5% Benefit in kind(BIK) category for Company Car Tax.
What kind of miracle vehicle is this? Well its the first of its kind Mitsubishi Outlander PHEV - Plug In Hybrid Electric Vehicle. This is a 4x4 where the complex drive train has been replaced with a pair of electric motors one driving the front wheels, the other the rear. These run off charge contained in a battery strapped to the underside. Unlike many electric vehicles a where load space and handling are compromised by the addition of a battery there is minimal compromise with the Outlander.
We covered a lot of ground last issue but one question we got asked was how does it drive. In this issue's video we answer that question.