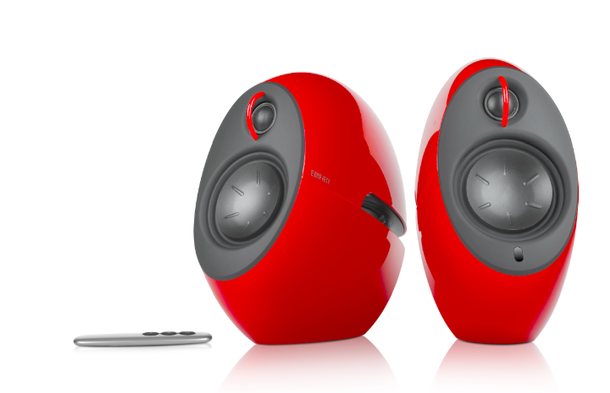 I've kept this review back a little as I was unsure I wasn't judging too much on expectations based on the fabulous Edifier Spinakers I reviewd last year.

Initially with the stunning looking Luna Eclipses I was a little disapointed but soon came to realise these speakers work best when driven hard and when you are sitting in the fairly narrow sweetspot.

I don't think the narrow sweetspot is a real issue once you realise that these speakers are really meant as desktop PC speakers although they certainly work really well when plugged into any portable audio device with the suplied 3.5mm cable.

Aside from the 3.5mm jack which is the only audio socket, they also include a rather excellent Bluetooth implementation (although it did take me a while to work out how to switch back to analogue input - hold your hand over the touch sensitive switches on the side of the speaker for a few seconds).

Bluetooth was suprisingly good despite not being Apt-X (this is a special Bluetooth standard for very high quality audio). I suspect edifiers sophisticated enhancement circuitry was doing some magic to correct standard Bluetooth's audio failing.

As with most Edifier speakers they just ooze clarity with details like fingers scraping along fret bars of keyboards being clearly picked out. The bass was a little disapoinitng at low volume levels but turn them up a bit and they really fill the room and the bass becomes deep and focusssed. Snare drums have a real snap to them.

The detail and sense of realism is shown in the low THD and SNR figures we saw.

Doing blind tests against a range of similarly speaker docks at various volumes it was noticeable that the Eclipes were constantly chosen as best when at higher volumes but fell into the crowd when played at lower volumes. I suspect the sophisticated electronics the Edifier employs may have something to do with this. I am always a little concerned about audio enhancing circuitry but the Eclipses never sounded anything less than natural although at lower volumes they lost that real edge of detail. It seems odd to say but even periods of 'silence' sounded better when the volume was slightly up. There appeared to be less background noise - slighty counterintuitive as normally when the volume goes up on a test so does the background noise. When I say turned up I am not talking uncomfortable levels - although they would certainly go very loud.

In terms of looks they are unique. Side on they look like gient pacmen but in a stylish way. In stunning Red or a glossy black they should not cause any worries to the style concious.

Overall despite initial reservations I have to say Edifier do have another winner on their hands. If you are in the market for PC Speakers or something to play your portable audio player through then you really should audition the Edifier Luna Eclipses.