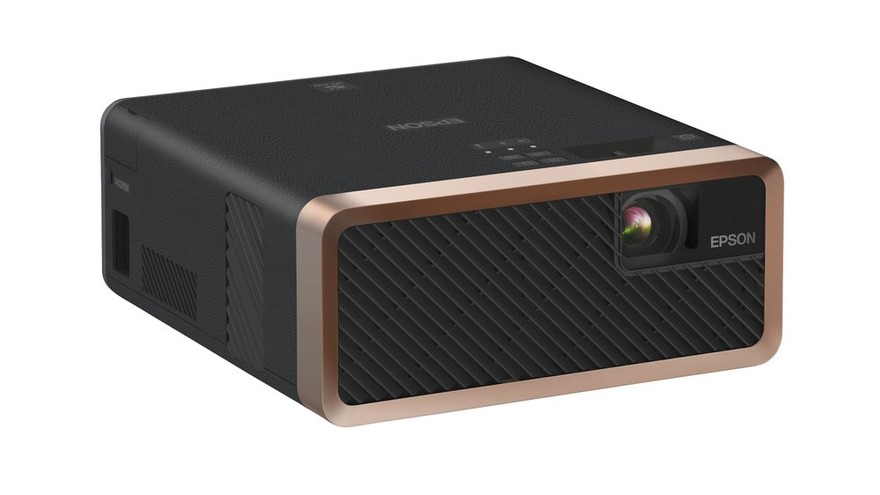 This lightweight projector is quick and easy to set up. Just use the foot at the front to get
this to hit your wall at the sweet spot. It was good and bright. This came with a remote control and you could easily adjust the keystone on the horizontal and the vertical is automatic. There is a manual focus adjustment which is very straightforward.
I simply aimed this at a painted wall and added an amazon fire TV stick (others are available) and now had a super big screen to watch movies. My very own home cinema in a box - which was great.
The audio is acceptable rather than amazing however there is the option to connect this to speakers by apt-x Bluetooth.
The perceived contrast and resolution (it's only HD ready but you couldn't really tell) are very good but the thing that impressed us most was just how quiet this projector is. Yes it does have a fan like almost all projectors but this one is hardly noticeable.
It is obviously designed to work with a smart tv stick, like the aforementioned FireTV , with a very convenient USB power lead and HDMI input behind the back panel and discretely hidden in use. However it is still very usable with any external HDMI source like perhaps a Games System. This could make a very good alternative to a bedroom TV. It does have a tripod socket in the bottom which would make for an alternative mounting method.
One small point is that when doing an update the FireTV stick said it had too little power for proper operation and to use the external supply but in use with the inbuilt supply of the projector we didn't see any issues.
Overall this is an excellent device and as it doesn't use a traditional projector bulb. instead being currently the world's smallest 3 LCD laser projector, it should last many years.
TADO Smart Thermostat V3 and Extension Kit (£210 Amazon)
Note: Subcription required for intelligent services.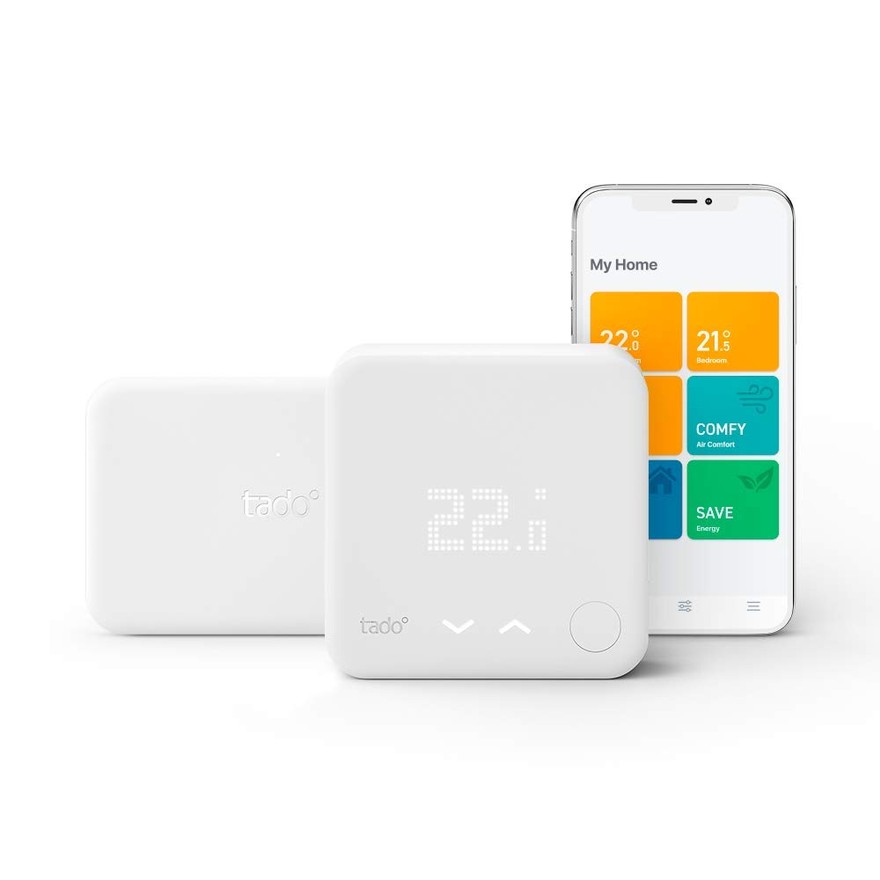 Tado caused a bit of controversy when they introduced their new V3 Thermostat a while ago when they started charging a subscription fee for parts of the system which had previosly been included in the price. To be fair to them you could continue to use your older devices fully featured if you didn't upgrade to the new application.
Now having used the new V3 system I have to say there is a lot of value here even without the automation offered by the subscription.
Firstly compared to other systems I've looked at this is incredibly easy to install especially if you have standard UK boiler wiring. The kit we got had both the Smart Thermostat and the extension kit. The extension kit is an add on if you also want to control hot water as well as heating.
For our test house we had a wired wall thermostat and a boiler with a separate controller unit which handles heater timing and hot water. The Tado app talked us through set up, we were a little confused initially that it went straight into pairing the thermostat device but this can be done before actually installing and is actually a really good idea. We have had previous devices where we were unable to pair once installed due to enviromental issues, like very solid walls, so it is a good idea to be able to check this first.
Once paired you are directed to the Tado Mobile web site which takes you through a questionnaire as to what your current set up is. This was really good with the exception that the list of manufacturers wasn't in alpha order. A bit of a pain if you wanted to scroll through the list to find your boiler manufacturer but n
ot really an issue as you can search by typing
. You are asked what type of set up you have with nice diagrams explaining the different types - also if you decide this is all too difficult you can book an installer to do it for you (obviously at a cost - although some of the retail packages do seem to be sold including installation) - if you are unfamiliar with heating systems or electrical systems generally this is probably the wise choice. We had the necessary skills available so continued with the self install
Once you've chosen the setup you need to identify the different parts of your system. In this case this was the thermostat, boiler and controller. Once identified, and you have confirmed that identification - careful here if you identify the wrong thing there is no easy way back without starting from scratch - it gives a step by step guide on how to replace each element.
In our case there was a little bit of wiring to do on the thermostat but the extension unit just slid on to our existing controller's back plate without any other wiring - we did have to change a jumper in the extension unit, so watch for that, but it was clearly explained.
So installation didn't take long at all. It did take a while for the Smart Thermostat to show the correct temperature - handling it seemed to mess this up but as it is wall mounted once installed you are unlikely to handle it. Operation is a simple button on the front of the thermostat to show the current temperature - nothing is shown until you press - and then to cycle through the settings with up down buttons becoming visible to adjust.
Most of the time you won't need to adjust as you can set up smart schedules in the app or on the website. We found this set up a little clunky but you only need do it once. One particular thing we would like is the ability to copy a schedule from one day to another. It does allow you to have all weekdays the same or all days the same but not all of us work 9 to 5 monday to friday now.
One thing it is particularly good at is geolocation allowing the traditional home and away settings. Without the subscription it will prompt you to set away mode when leaving the house. With the subscription that is automated as well as learning your behaviour to ramp up the heating as you approach home. It can also notice an open window and prompt you to drop the heating if you have opened one to cool the room - this can be automated with the subscription.
We didn't have any but Tado can also supply Radiator thermostats to allow for zone heating which is fully integrated.
The hot water integration with the extension kit is really nice. Once installed the Smart Thermostat gains another mode allowing heating to be turned on manually and through the app you can decide if this is just an hour boost or longer. Again you normally won't need this as you can apply smart schedules here as well.
Smart schedules for heating also allow for a ramp up time to actually be hot at the time of the scheduled temperature change rather than just turning on at the scheduled change. So if you say you want your room temperature to be 18 degrees at 7am the heating will turn on early enough for this to be the case. Some systems would only try to start warming to 18 degrees at 7am.
We really haven't had time to fully test the automation services yet so will be returning to this system in the next issue but for now this is one of the few systems you can get that can control hot water as well as heating. It is definitely one of the easiest to install and definitely worth a look - just be aware up front about the subscription cost but we think it adds a lot of value even without the subscription.
Now if you've got all these presents you need something to transport them in
MG ZS EV - Production Variant (From GBP22.5K)
This is MG's first venture into the electric car market. MG's parent SAIC do have electric cars overseas but have never launched one in the UK until now. The car comes with a mileage range of 163 miles which for many drivers is ideal as they go under 10 miles daily to and from work. Given the plan of the UK government to stop selling petrol and diesel cars in 2030 people will have to adapt to a new world.
The EV market is in early days with most manufacturers only launching their cars in 2020/2021. The cars that are available in the same crossover SUV segment at the moment are high end cars such as the Jaguar i-pace, Audi E-tron and Tesla which are unaffordable for many drivers. The next cars are Hyundai Kona and Kia with the Niro and Soul but they all are over £30,000 with long waiting lists.
MG are the first to reach market with an affordable SUV EV with two models being a Excite and Exclusive. The Excite is the basic model but still comes with the MG pilot software however the mirrors don't fold and there is no reversing camera.
The Exclusive model comes with a panoramic sunroof, reversing camera, powered mirrors and electrically adjustable driver's seat.
The pre- production model was not a bad drive and if you have a bad back it absorbs a lot of the poor state of UK roads reducing your pain level. However for someone used to sports cars you may find the ride a little less direct.
However in the production model MG have introduced what they call chimes but most drivers call them extremely annoying bongs that are excessive and mostly unnecessary. Every driver so far wants to know how to turn them off- MG are you listening they are not chimes- Big Ben would be quieter. How about a nice off button or an option to mute?
So onto MG Pilot- this incorporates:
Automatic braking- in an emergency situation
Hazard awareness- such as cyclists/pedestrians
This means that for MG prices you get the car features that would be on a more expensive car.
There are some compromises though, in that the heated seat has only one option. The passenger seat is once again manual- why manufactures? Make both seats automated and value the front passenger as they often control the family budget!!
There is one anomaly in the back seats- three seatbelts but only two headrests so the car is probably only suitable for four and not five. This does seem a bit lazy as they could easily have fitted the middle headrest.
The luggage space is excellent and the base of the boot can be lifted and set at two levels. There are two side pockets which to be honest are more suitable for the charging cable than placing this under the boot which when you have a fully loaded car would simply be a pain! Manufacturers common sense please! In fairness most of the electric cars make the same mistake where they suggest they have a super arrangement for cable under the boot!! Impractical.
So it is a good car but for goodness sake MG turn off the irritating bongs!!
Note: since our previous review it has come to our attention that the ZS EV has a bug where timed charging cannot be used. This is a serious limitation and we hope MG are going to resolve it but until they do we cannot in all faith give the production version the TrulyFascinating award we gave the pre-production version.