OHME Type 2 EV CHARGING CABLE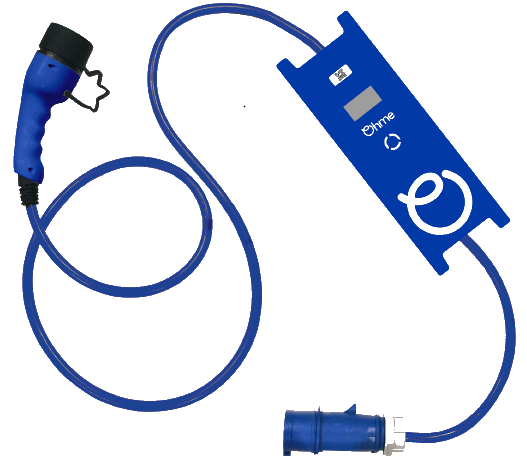 The Ohme cable looks like any other EV charging cable except for the rectangular box located partway down it. It comes in three varieties Type 2 to Type 2 for use on untethered home and public chargers (i.e. those with a socket), Type 2 to Commando (pictured) for use on caravan parks and in industrial settings and Type 2 to 3 Pin domestic 13 amp plug.
The rectangular box is the really clever bit as it turns any dumb charge point into a smart charger. Ever wanted to only charge on off-peak electricity but your wall box and car don't allow scheduling then with the Ohme cable you can.
The Ohme goes one step further and with its partnership with Octopus allows you to charge based on the the flexible tariffs Octopus supply. For example you can use Octopus Agile to charge only when power is cheap. Very clever stuff.
The app is incredibly easy to set up. Just scan the QR code on the back of the box on the lead and away you go. You get offered to choose your electrical supplier (only Octopus offered at the moment) and your charge schedule. This latter is very flexible allowing for different schedules on different days of the week even multiple schedules in a day. You can even get the Ohme to prioritise charging when the UK grid is using renewable energy.
Charging is just a matter of plugging in as normal. If you need to charge outside the schedule you can override the scheduling for a quick full charge.
We like the Ohme cable it is easy to use and does what it says it will. We would like to see more electricity suppliers covered but if you are an Octopus Energy user it is a no-brainer.
Even without the other energy suppliers, which we are sure are coming, the Ohme cable gains our...
E
difier R1850DB Bookshelf Speakers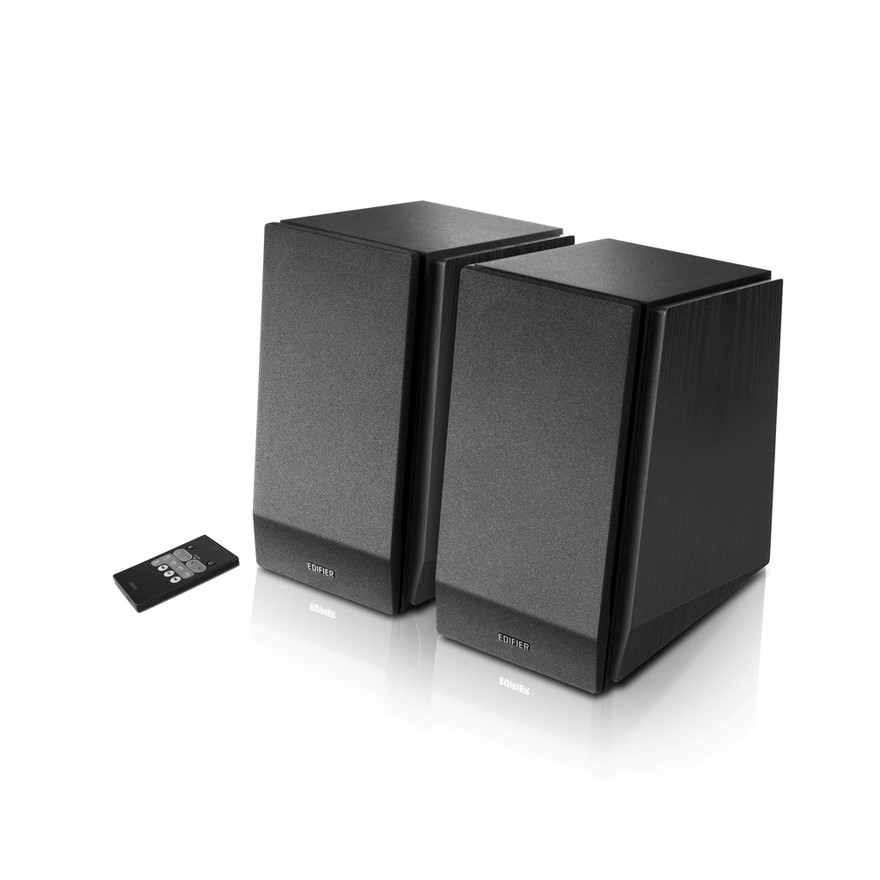 Even without a subwoofer these bo
oksh
elf speakers sound great but they do have the option to plug a sub-woofer in the back if you really think its needed. We actually didn't in our tests although you will be missing out on frequencies below 60 Hz.

We've looked at Edifier's powered bookshelf speakers before and they almost always sound really good for the price with clear midrange and wide frequency range.
We particular like the fact that whilst all the connections go into one master speaker and the slave speaker is linked by a single cable, that single cable is nice and long allowing easy placement.
Whilst seemingly designed to work with a computer output when used in conjunction with and Echo Input device these also make a much higher quality way of using Alexa than any of Amazon's echo speakers.
Specification from Edifier:
·
DIGITAL / ANALOG INPUTS - RCA/Aux for PC, turntables, etc; Optical/Coaxial for lossless connection; Bluetooth for convenience
·
BLUETOOTH V4.0 - Latest wireless technology for playing from phones, tablets or laptops
·
TREBLE/BASS CONTROL, SUB-LINE OUT: Adjust bass, treble, volume and toggle inputs on rear panel. Need a little more oomph? Add a subwoofer to your 2.0 setup by simply connecting to the sub-out jack
·
WIRELESS REMOTE - Handy compact remote control for input selection, volume adjustment and track control (Bluetooth)
·
Signal-Noise Ratio L/R:≥85dB(A) Frequency Response: R/L: 60Hz-20kHz Power: 16W X 2 + 19W X 2
Overall well worth auditioning.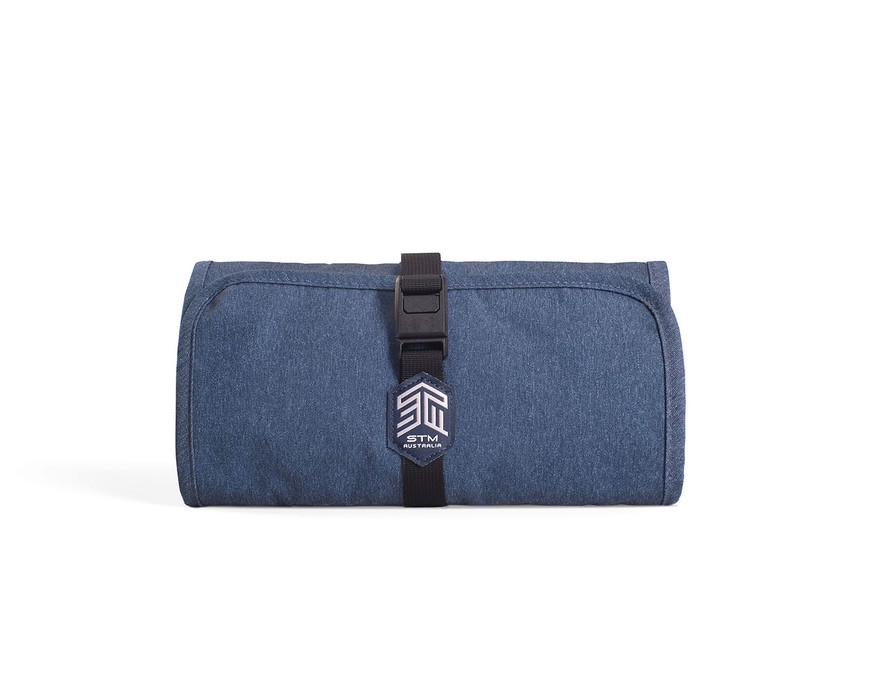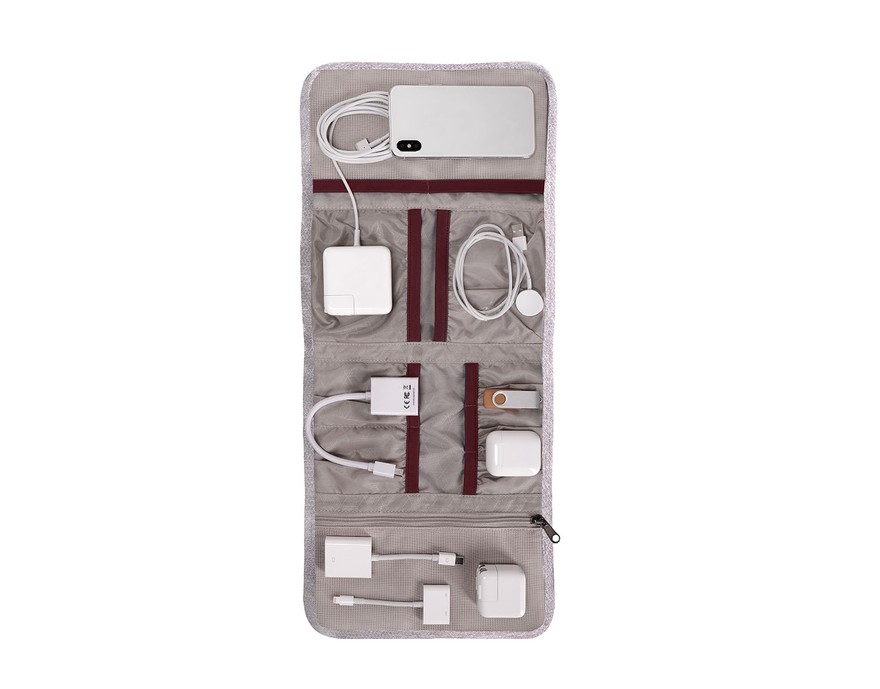 This is such a clever idea that I wonder I haven't seen similar bags before. Looking a bit like one of those toiletry organisers that wrap over themselves this really well put together product from STM does the same thing for your cables and and accessories and does it really well.
As we would expect from STM it is really nicely manufactured, stylish and well thought out. We particular like out the 'buckle' works which is both secure but easy to operate.
The real proof in the pudding is I want one for myself... I've never been so organised.
BASEUS Wireless Charger
Baseus is a new name to us and to the UK but on the basis of the two products we have seen this issue they should be a name we will get familiar with.
The first is a QI based wireless charger. It is very solidly built and works as you woudl expect a Qi charger to. it does seem to have a suprisingly wide placement area for a succesful charge. Not much more to say on a Qi charger... it does what it says it will and it looks stylish doing it.
BASEUS USB-C Multi Port Hub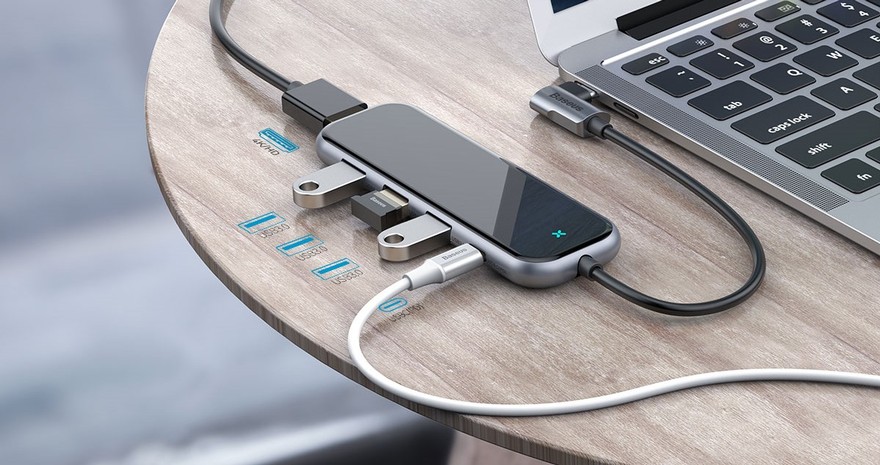 We really like this hub which give 4K HDMI, USB 3 and Ethernet ports from single USB-C port as well as allowing USB-C power in.
it is really stylish and works very well. We did wonder when we first saw it how the Ethernet connection would work as the unit looks too thin to contain one. It is actually a little (and we mean little) flip up cover on the end of the device - very clever design and it looks like it should cope with multiple opens.
A great companion for a MacBook with limited ports.