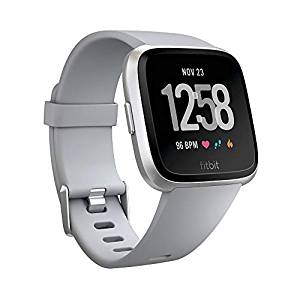 This is one of the Fitbit watches for monitoring your fitness and movement.
Water Resistant




Heart rate monitoring




Step count




Movement reminders




Sleep tracking




Phone notifications




4 day battery life.



So what's good about this?
It is really easy to set up. The app is a lot easier to follow than most smart watch apps. Although I dislike how much private information is compulsory.
It fits a small wrist which is useful for me and the straps are interchangeable. The watch screen is bold and easy to read.
Water resistant up to 50m but to be honest the only test I gave it was rain which I seem to have seen a lot of lately.
The design is simple relying on just a one button design. However if it is touchscreen and scroll down to see your notifications and up to see your stats starting with your steps and if you scroll left it will show you details of your miles and estimated calorie burn. Scroll down again and you get your heart rate and your resting heart rate.
Down again to sleep - the sleep monitoring I personally can't rate, though it gives details of REM, awake, light and deep sleep but I remain puzzled where it is getting it's stat from when I leave it in the bathroom overnight! Is it counting my time watching telly maybe?
Then it tells if you have completed 5 exercise sessions in the week. Finally there is a button for settings which lets you decide which stats you are choosing to monitor.
More details can be seen on the associated app which can even suggest some exercises for you to carry out. However these are shown on the phone and not on the watch.
The reminders to move are good as it encourages you to get up from your desk every hour and cover 250 steps. If you haven't done your steps for the hour it vibrates and says only 143 steps to go for example. It's a good idea as it is easy to stay too static at work.
It does have GPS features so can track your runs or other exercise routes. You to compete with your friends on exercise.
It's simple and intuitive to operate with a slim design so better for women than some of the bulky rival versions. However if you were travelling you would have to take the uniquely designed charger with you which is a bit chunky and could be streamlined a bit.
The screen is excellent although to preserve battery life it is only on when you raise you wrist or touch the screen. I found the wrist raise gesture very difficult and frustrating.
So is this a good device, well it isn't perfect but I still am wearing it.